Military Discharge Upgrades: 3 Things DoD Wants You to Know
By: MJ Boice, Staff Writer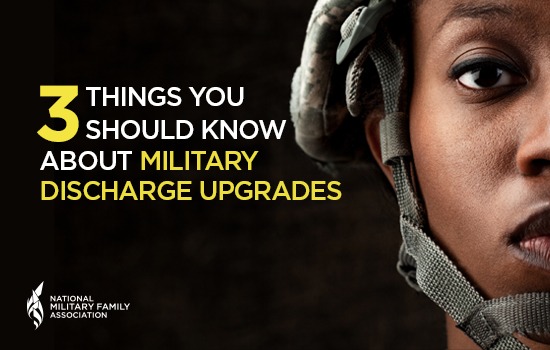 After 15 years of war, it's very likely you've come across someone who was discharged from military service under less-than-honorable conditions, receiving what is commonly known as a "bad paper" discharge.
These veterans are typically ineligible for VA healthcare benefits, including access to mental health services. Countless combat veterans have been separated and given a less-than-honorable discharge due to behavior that can be linked to conditions such as Post Traumatic Stress Disorder (PTSD). In the past, former service members who received these types of discharges had a very difficult time attempting to appeal or receive an upgrade under these circumstances.
Over the last few years, the Department of Defense (DoD) has loosened its policies regarding discharge upgrades and military record corrections, allowing for more "liberal consideration" when reviewing cases. A recently published DoD news release stated that they are reinvigorating their outreach and engagement with the veteran community in an effort to encourage veterans to apply for an upgrade or military service record correction.
Discharges due to misconduct that can be linked directly to behavior stemming from PTSD, TBI, or a sexual assault are among the instances where an upgrade or record correction may be warranted. Individuals who were separated under the Don't Ask Don't Tell policy, which has since been repealed, are also encouraged to reapply.
We spoke with Kara, a military spouse and veteran, who is currently in the process of preparing her application for a discharge upgrade. Fourteen years ago, Kara was sexually assaulted by another service member and was too afraid of him to report it. It was the beginning of a downward spiral subsequently leading to false and inflammatory statements being placed in her military service record. This ultimately lead to Kara's less-than-honorable discharge.
The liberal consideration policy will assist individuals, like Kara, in potentially having their records corrected, or discharge codes upgraded. According to the DoD's news release:
"The department encourages all veterans who believe they have experienced an error or injustice to request relief from their service's Board for Correction of Military/Naval Records (BCM/NR) or Discharge Review Board (DRB)."
For discharge upgrades, the DoD instructs veterans as follows:
Discharges less than 15 years ago require the veteran to complete DD Form 293 and send it to their service's Discharge Review Board.
Discharges over 15 years ago require the veteran to complete the DD Form 149 and send it to their service's Board for Correction of Military/Naval Records.
For corrections of records other than discharges, veterans should complete the DD Form 149 and submit their request to their service's Board for Correction of Military/Naval Records.
Many veterans are reluctant to pursue an upgrade or correction to their records and continue to believe they will be denied, based on past experiences. "My biggest concern in pursuing an upgrade is that at the end of the process, the false statements in my [military service record] won't be changed," Kara stated.
There are three very important factors that will determine whether or not a veteran's application for upgrade or correction will be successful. Here's what the DoD wants those veterans to know:
Explanation
Try to explain why the veteran's discharge or other record was unjust or erroneous. An example of this would be to detail how the discharge or record issue was a result or in some way connected to an unjust policies or a medical or mental health condition related to military service. Include all the information you can in order to justify the circumstances.
Supporting Information
Supporting evidence is key. Along with the above mentioned statement, any supporting documentation can be helpful in establishing a claim. For example, when the veteran has a relevant medical diagnosis that supports their statement, it would be a good idea to include medical records that reflect that diagnosis.
Service Records
While it isn't always required, it is extremely important to include a copy of the veteran's service records, if possible. . The more information provided, the better the boards can understand the circumstances of the discharge.
The newly enacted 2017 National Defense Authorization Act also now requires more of both review boards; if either board makes a preliminary decision that a claim lacks sufficient information or documentation, the board is required to notify the veteran in writing. The board is also required to make a reasonable effort in obtaining a claimants service records or medical records if the veteran is unable to do so.
Additionally, the DoD states:
"All veterans, Veteran Service Organizations, Military Service Organizations, and other interested organizations are invited to offer feedback on their experiences with the Board for Correction of Military/Naval Records, or the Discharge Review Board's processes, including how the policies and processes can be improved."
Check out the DoD's News Release for more information, and let us know your experiences if you've gone through this process in the comments below.
Posted January 9, 2017