Meet the Bocchers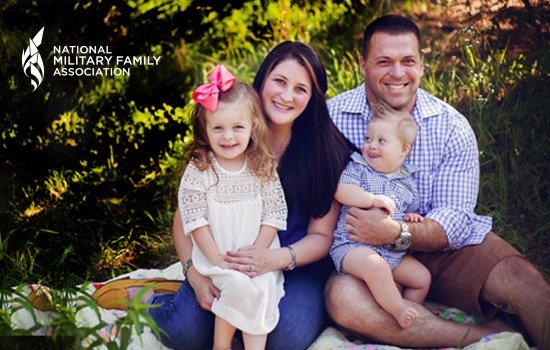 Military Family Appreciation is here, and we'll be featuring four different military families each week during the month of November.
This week, we're featuring the Bocchers – an Air Force Family currently stationed near Little Rock, Arkansas.
Brittany met her husband Adam, an Air Force Special Agent for the Office of Special Investigations, at an airport while she was traveling on business. Brittany, who lived in Texas at the time, kept in touch with Adam through email and telephone calls. "He asked me to travel to Mississippi for our first date, and the rest is history," said Brittany.
Now married 11 years, with two children, Harper (4) and Blake (2), Adam and Brittany are much like any other military family. They're always waiting for the next deployment to come around, they aren't able to make plans too far in advance, they make friends quickly, and they expect to move every 3-4 years.
Every military family is unique, however, and the Bocchers are no exception. Their son Blake has Down Syndrome, as well as several other disorders that impact their family daily. Adam's duty assignment selections must be based on access to support services that are equipped to treat Blake's needs. They struggle to balance career and family responsibilities due to frequent medical appointments, and because Blake's health issues are unpredictable, he needs someone home with him often.
"We have to think ahead of every possible scenario, barriers, and equipment we would need for our child to attend a function," said Brittany. "The thought alone is exhausting at times!"
But that hasn't stopped the Bocchers from becoming advocates themselves. They have both dedicated themselves to learning everything possible about Blake's conditions. As a result, Brittany became a parent liaison for the Exceptional Family Member Program (EFMP) at Little Rock Air Force Base, to help advocate for other EFMP family members. She's also the founder of a nonprofit called the Down Syndrome Advancement Coalition.
When she's not out changing the world, she's running a home-based t-shirt business she helped co-found called Mason Chix. The interesting part of her business model is that every tag and label on every shirt have facts about Down Syndrome on them to draw awareness to this medical issue. Not only that, but all of her share of proceeds go towards Down Syndrome research and treatment!
The Bocchers believe military families should embrace each community they encounter, both in and outside of the gates. "Explore your communities," Brittany explained, "get involved, build relationships. The civilian community will better understand the needs of military families if you do."
Military families share many commonalities, yet are as unique as the stars in the sky. We hope you've enjoyed hearing about the Boccher family's journey as we continue to celebrate Military Family Appreciation Month!
Posted November 9, 2017