Meet the Alvarados!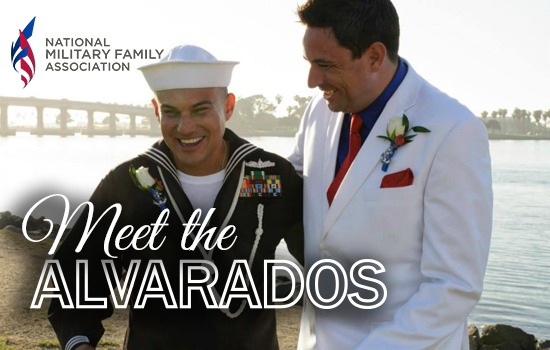 It's Military Family Appreciation Month, where we focus on the uniqueness, braveness, and total awesomeness of the military family.
This week, we'd like to introduce you to the Alvarados, a Navy family currently assigned to Naval Base Point Loma in sunny San Diego, California.
Brian and Matt's relationship began the way nearly one-third of marriages begin in the tech-era: online.
Brian, a successful real estate agent, had just sold one of his best friends a condo.
"While I was helping them paint their new home, they started telling me that I needed to get on a dating site, but I wasn't into it," he said. "They ended up setting it up for me, and at first it was awful!"
A few weeks later, Brian received a message from Matt, a Naval Instructor. After emailing and text-messaging for a few weeks, they agreed to go to dinner and a movie together.
"When he arrived to pick me up, he sent a text message that said 'I'm here'," Brian recalled. "I found him in my driveway, standing there with the passenger door open for me. I fell in love with him at that exact moment!"
By 2014, Brian proposed to Matt on a trip to Las Vegas, in front of the Bellagio Hotel fountains. "I got down on one knee in front of a crowd of strangers," said Brian. "Everyone cheered. It was a total movie moment." The couple married in 2015.
"I knew nothing about military life," Brian explained. "I was an on-the-job learner in the military spouse world." But for the first time in 14 years with the Navy, Matt was so excited to be able to begin taking part in family events, starting with the unit holiday party. "I was so scared walking into that event," said Brian. But Matt's unit welcomed him with open arms.
That's when Brian got involved with the unit's Family Readiness Group, which led to his current position as a Command Ombudsman. "I really feel a responsibility. We worked really hard to achieve equality in our nation," said Brian.
From cupcakes on the quarterdeck, to hosting career events for military spouses as a chapter lead for In Gear Career, Matt was thrilled with the level of Brian's involvement and commitment to the military community. "It makes him so happy to have the full military experience now."
As for their family, Brian and Matt are currently in the process of adopting a child out of foster care.
"Kids have been a part of the conversation from day one," Brian shared. "There are 56,000 kids in California alone who are in foster care. We've been blessed with amazing families and careers and want to provide a child with a home and a sense of belonging."
The Alvarados know their lives are going to change with the expansion of their military family, but according to Brian, the couple feels they're in a position to give any child the time and attention they need. "Our life is going to change, but to be able to provide a home and a family to a foster child is an amazing gift."
Military families come in all shapes and sizes and from all walks of life. We hope you've enjoyed hearing about the Alvarado family's journey as we continue to celebrate Military Family Appreciation Month!
Posted November 21, 2017