Looking Ahead: NMFA's Next 50 Years
A Message from Our Executive Director and CEO, Ashish Vazirani
The National Military Family Association recently celebrated our 50th Anniversary—the start of a yearlong celebration of our organization's service as the leading voice for military families for the past fifty years. It was my honor to address a room full of our biggest supporters, and I'd like to share that message with you.
When NMFA was founded in 1969 half a million people assembled for the Woodstock Music Festival and Neil Armstrong and Buzz Aldrin walked on the moon. 1969 also marked a critical point in the Vietnam War—the longest period of war in U.S. history, to that point. During the war, 153K service members were wounded and over 58K died. That's when a group of military spouses gathered around their kitchen table—determined to make sure their widowed friends were properly taken care of. They took that message to the Hill, and their fight led to the passing of the Survivor Benefit Plan. Our Association has been hard at work ever since.
This Military Family Appreciation Month, it's fitting to recognize the legacy of the NMFA's leaders over the past 50 years. I think the synonyms of advocate are a better way to understand the women who started this organization and our honorees: backer, booster, champion, gospeler, herald.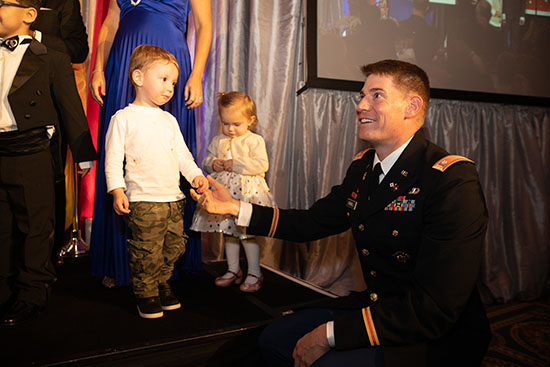 Since 1969, NMFA has:
I'm grateful to have joined an organization with deep roots and broad support. For 50 years, NMFA has been serving military families like mine. I come from a military family, though I wasn't born into one. After my father passed, my mother remarried a combat wounded, Vietnam-era, blinded Marine. My dad used to say his best work started after he lost his sight and got better after he met my mother. That's the power of family. My parents were a team that advocated on behalf of veterans and military families, particularly sensory disabled veterans. My parents taught me the importance of service. Because of them, I was proud to carry on that tradition in the submarine force. My wife, Deborah, and I have two children, and our oldest, Ben, is a Marine like his PopPop. As we say in our family, service is the family business. I'm proud to be able to carry on that service as a military family advocate at NMFA.
There isn't a typical military family—so advocacy on behalf of military families requires an organization that can innovate and adapt, at scale. As we celebrate NMFA's 50 years so far, it's important that we do more than acknowledge how much we've done.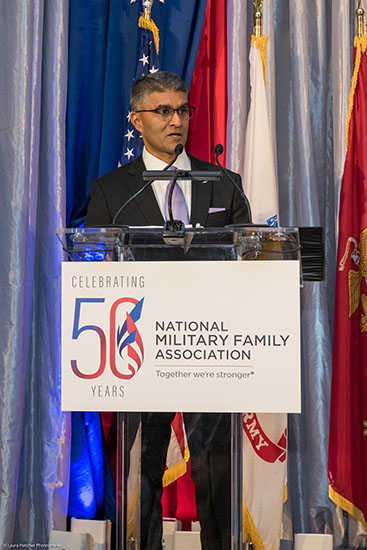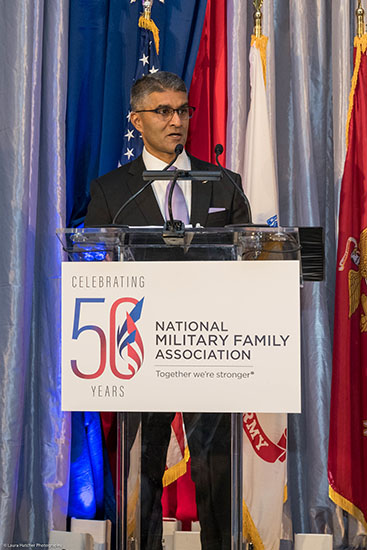 Now, we'll focus on the future in four ways.
Impact. We will continue to drive impact in advocacy and programs, expanding our services to fill gaps wherever policy and legislation end.
Change. We will bring an increased emphasis on high quality research and analysis to everything we do.
Upward. We will continue to raise the bar. The families we serve are the best in the world at what they do, they deserve the best from us.
Onward. We will continue to be the leading nonprofit dedicated to serving the families who stand behind the uniform.
My ask of you, whether you're a part of a military family or someone who cares about military families, is to renew your commitment to support each member of the military family. We can't do it without you.
Together we're stronger!