Know Your Rights: Special Education and Military Kids
By: Eileen Huck, Government Relations Deputy Director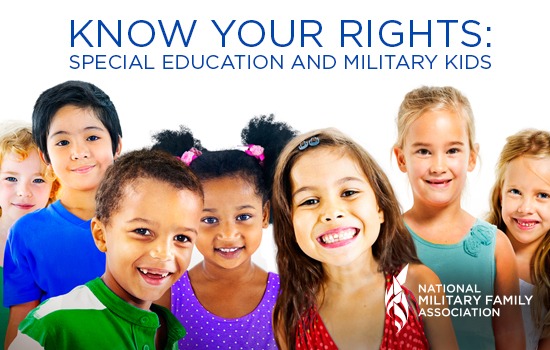 As every military family knows, Permanent Change of Station (PCS) moves are a time of stress and anxiety.
Along with dealing with movers, finding a new home and adjusting to a new home town, military families with a special needs child have an additional worry: the fear that the programs and services their child relies on will not be available at their new location. The services' Exceptional Family Member Programs (EFMP) are charged with ensuring special needs families are sent to locations where their family member can receive the medical care they need. But what about special education services? What can families do to make sure their children receive the support they need in school?
Special education services are covered under federal law. The Individuals with Disabilities Education Act (IDEA) mandates that states must provide special needs children with a free, appropriate public education in the least restrictive environment possible. The law also mandates that special needs children must have an Individualized Education Program (IEP) developed along with parents, teachers, and school administrators.
When a family moves, the new school is supposed to recognize the IEP and provide a comparable level of services. However, the law gives school districts and states wide latitude to determine what constitutes "appropriate" educational services. In addition, school districts are allowed to reevaluate a child and draft a new IEP with its own plan for placement and services. For this reason, it's not uncommon for military families to discover that their children are not offered the same level of special education after they move to a new location.
Families who move only to discover that their special needs child will not have access to the same services they had in their previous location often wonder if they have any recourse. Parents should know that they always have the right to reject a proposed IEP. Under the IDEA, families who feel that schools are not meeting their children's educational needs have the right to seek mediation or even take the school district to court. However, for most military families the time and expense involved in suing a district effectively put this option out of their reach. A court case might take months or even years to be resolved, by which point most military families will have moved on to the next duty station.
Fortunately, there are resources to help military families caught up in disputes with local public school districts. One such resource is the installation School Liaison Officer (SLO). SLOs are the primary point of contact between the installation and the school system. They are available to assist families with information about local resources and can intercede to help with transition-related issues. Military families can also seek support through their installation EFMP office.
Military families should also be aware that special education issues are addressed in the Interstate Compact on Educational Opportunity for Military Children, an agreement signed by all 50 states and the District of Columbia, which is designed to smooth school transition issues for military families. The Compact echoes that schools are obligated to follow the provisions of IDEA, which is federal law, and also states that while schools are permitted to do their own assessments later on they must follow the student's IEP and provide comparable services upon enrollment. Families who feel their new school is not following the terms of the Compact can contact their state's Compact Commissioner for information and assistance.
Unfortunately, none of these resources will be able to solve every dispute between schools and special needs military families. It falls to parents to educate themselves about their rights under federal and state law and act as their children's advocates.
What has been your experience with special education services? Share your story with us!
Posted July 25, 2016