Kick-Start Your Summer with These Military Family Activities
By: MJ Boice, Staff Writer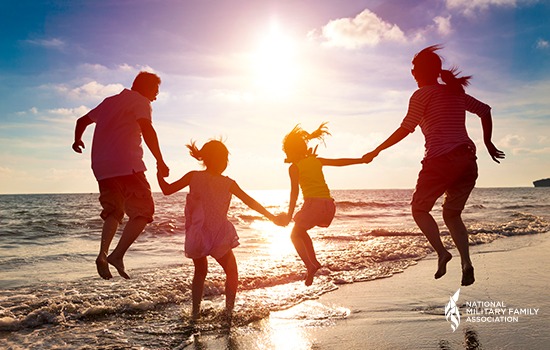 With the school year coming to a close and PCS season in full swing, many military families are looking for cost effective ways to usher in those summer days. There are so many activities available to the military community. We hope you had a chance to register your military kid for Operation Purple Camp or your family for a retreat. But there are many weeks to fill before the start of the new school year—so here are some ideas to kick-start the summer fun!
Family Camping Trip
Military installations around the country have campground facilities for authorized patrons. Amy, a Marine spouse currently living in Hawaii, planned her family's summer "get away" right on her installation. "We stayed in the Cabanas at Kaneohe Bay in an upscale studio right on the water for super cheap", she said.
Waves of Honor
SeaWorld Parks and Entertainment and their Waves of Honor program is another excellent way to make memories with your family without breaking the bank. SeaWorld and Busch Gardens offer free admission each year to military members and up to three dependents.
National Parks
The National Park Service offers a free annual passes to their national parks and federal land sites to all current U.S. military members and dependents. Living the military life can make it more difficult to establish family traditions, but with free park passes to these parks, you can make visiting these national treasures a tradition regardless of where the military takes you.
Armed Forces Vacation Club
The Armed Forces Vacation Club offers a free membership to all active duty, guard, reserve and retired U.S. military and civilian Department of Defense (DoD) employees for their Space-Available (Space-A) program. You'll have access to accommodations at over 4,000 resorts, condominiums, apartments or homes in over 100 countries worldwide starting at only $349 a week!
For less than $50 a day, you could stay in a three bedroom Costa Rican villa or a 2 bedroom condo at a resort in Reno NV. With thousands of places to choose from, your family (and your wallet) will thank you!
Your Own Backyard
Sometimes a staycation is just what the doctor ordered. Spend the summer relaxing tourist-style by exploring your local area. Whether you want to pop a tent in your backyard with the kiddos or rent a pontoon boat for a day on the water with your service member, check out what rentals are available at your installation MWR/MCCS.
Do Disney
Head on over to your Installation Tickets & Tours (ITT) office and take a gander at some of the amazing discounts off your next trip to see Mickey Mouse thanks to Disney's Armed Forces Salute program! This year's promotion offers the choice between their 4-day ($209 +tax) or 5-day ($224 +tax) military promotional tickets and the Park Hopper option is included so you can come and go as you please. Want to beat the heat while you're there? Add the Water Park & More option for only $37 +tax!
These are just a few ideas to get your summer started. What activities would YOU suggest for military families this summer?
Posted June 19, 2017