It isn't what happened. It's what happens next.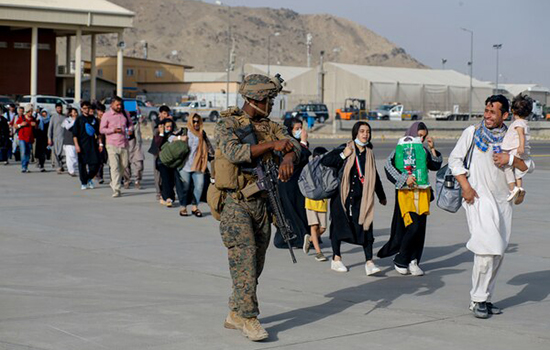 This is not a normal wartime deployment.
The largely forgotten war in Afghanistan is, after twenty long years, back on the front page, breaking news, and at dinner table conversations everywhere.
But for military families who have borne this two-decade burden, the storyline isn't so simple. We're not asking whether what's happening in Kabul was a result of the right decision. We want to know what happens next.
Military families are resilient, but resilience isn't automatic. It's the direct result of leaders investing in mental health resources, wellness programming, and the strength that comes from community togetherness.
At the height of the war, we had active FRGs, FROs, baby groups, mom groups, playdates… all the togetherness our community could muster.
But we're in a pandemic.
It's the third school year of isolation, distance, and disconnect.  We are coming off the latest PCS season and families are settling into new places and do not have support communities in place.
Military families weren't prepared for this loss — or the hurt that comes with it. The resounding sentiment they share is one of frustration, anger, and concern.
Eleven Marines, one soldier, and one Navy corpsman died in the Kabul airport attack. Most were babies or toddlers on 9/11 and volunteered to serve during the war that lasted their entire lifetimes. Their families mourn, and our community mourns with them.
We all watched the Marine who held that baby and pulled him over the fence — what's next for him? For his family? And the pilots who had to fly out with Afghan refugees on their wheels — what of them? Our troops on the ground left parts of themselves in Afghanistan. And all of that will come home to their families.
Military families need to hear that our government will help them through this. Service members spouses and survivors need support for themselves, their children, and their communities. The military kids of today are the fighting force of tomorrow, and they're watching.
Here's what military families need:
A surge in mental health resources, to include more Military Family Life Counselors in affected communities.
Support for educators communicating with their classes. Those working on installations like Lejeune who have lost Marines, have classes of children now terrified for the safety of their parents. They are looking for ways to support their friends and their families.
A focus on military teens who, a greater degree than any other population, are ready to stand up and serve this nation when it's their turn. Teens need resources to help them process what's happening, make sense of it, and learn how to cope with these traumas and losses. They are our future force.
The National Military Family Association is launching a new support initiative with PsychArmor to provide direct intervention for military families as they process the news from Afghanistan and the toll of the twenty years of war preceding it. Families will work with clinicians on these tough issues, discussing the conversations happening inside our homes, on the front page of the paper, and the fears and concerns we aren't always equipped to articulate. We will build the soft skills that support resilience, and on a very small scale, provide the direct support we know military families need.
What else does your military family need? Let us know in the comments.
By: Besa Pinchotti, Executive Director & CEO