Improving Child Care for Military Families: Our Recommendations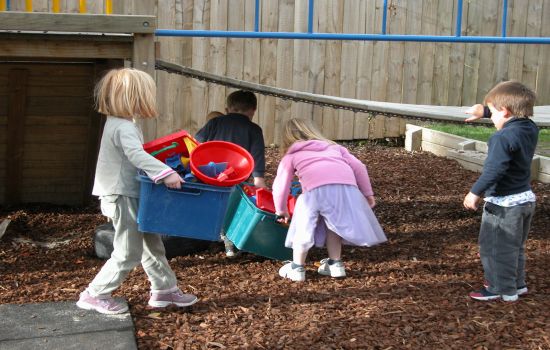 When Executive Director Joyce Raezer testified before the Senate Armed Services Committee, she was pleasantly surprised to be questioned by the Senators about child care for military families. We've said for a long time that access to quality, affordable child care is vital for military families; it's good to see our elected officials have been listening and recognize the importance of this issue. The Department of Defense (DoD), in recent years, has taken steps to help families find and afford quality care, however we know more still needs to be done.  In our testimony, we recommended several steps DoD and the Services could take to improve military families' access to child care.
Build more Child Development Centers (CDCs): In some locations, the existing CDCs are too small to meet the growing demand for child care. The simple solution would be to build more CDCs. However, the military construction process is cumbersome and time-consuming, making it difficult for the Services to get authority and funding to build new CDCs where they are needed. We've asked Congress to allow the Services to use operations funds to build or renovate CDCs where there is demand.
Streamline the hiring process: A beautiful new CDC does nothing to meet families' child care needs if there is no one to staff it. We know many installation CDCs are understaffed, which limits the number of children they can serve. We've asked Congress and DoD to examine the process for hiring CDC staff to see how it could be streamlined while still performing background checks needed to ensure children's safety.
Increase wait list transparency: When families PCS to a new location and try to find child care, it's important for them to know how long the wait might be so they can plan. However, in order to improve their chances of finding a spot, many families add their names to the waiting lists at multiple centers, making it hard for CDCs to accurately predict how long the wait will actually be. We are hopeful the rollout of MilitaryChildCare.com will help alleviate this issue. The new system should eliminate waitlist duplication, so families know how long they will have to wait for a spot to become available and the Services have a more accurate measure of demand for child care. MilitaryChildCare.com is already available at many installations and should be available worldwide by 2017.
Give installation commanders flexibility when setting hours: We were gratified that Secretary of Defense Ashton Carter included child care in his Force of the Future initiatives and agree CDCs need to set their hours of operation to accommodate service members' demanding schedules. However, rather than setting a universal requirement that all CDCs operate for a certain number of hours, we recommend installation commanders be given the flexibility to assess the prevailing work schedules at their location and coordinate with CDC directors to set appropriate hours of operation.
Help families find and afford care off the installation: For many military families, on-base care is not the best or most convenient option. However, it can be challenging to find good quality, affordable care in their civilian communities. For those families, the Services' fee assistance programs can be a lifesaver. The fee assistance program helps offset the higher cost of community child care, making quality child care affordable for families who can't access installation-based care. We have called on the Services to expand eligibility for this program and to take steps to increase awareness of this option among military families.
What do you think of these suggestions? What steps would you recommend to improve child care for military families?
Posted March 28, 2016