We are on a mission to stand up for, support, and enhance the quality of life for every military family through bold advocacy, innovative programming, and dynamic and responsive solutions.
Military Spouse Scholarships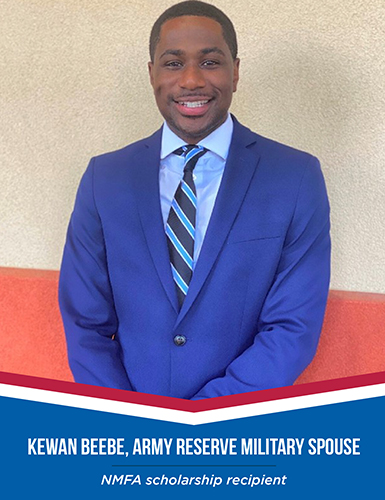 "I am the first of my family to finish my undergraduate years for college, and I will set the bar when I get my Master's in Criminal Justice. I've been working extremely hard throughout life to be in this exact moment, and to have this exact feeling—almost being finished with accomplishing what is a huge deal for me.
My wife, who is in the military, will also finish her master's and we hope to walk the stage together in June 2022. I work in Law Enforcement and, together, we take care of a one-year-old child who we hope follows our footsteps. This is a great deal for my family. I am so thankful."
KeWan Beebe, Army Reserve military spouse
NMFA scholarship recipient
When a military member has been serving for 20 years, most families approach another military-mandated move like it's an old hat. And for some things, it is. They know how to house hunt, what not to let the movers pack, and most know how to get connected in their new community. But when it comes to moving school-aged children, the situation is never the same as the last time.
For The Smiths, a good education for their teen daughters was top priority. NMFA helped The Smiths, and three other families, elevate their voice to the Virginia Department of Education as part of our Education Revolution advocacy efforts.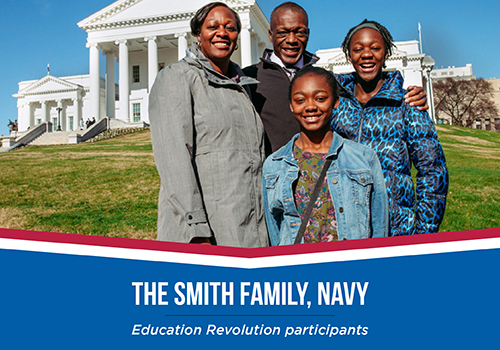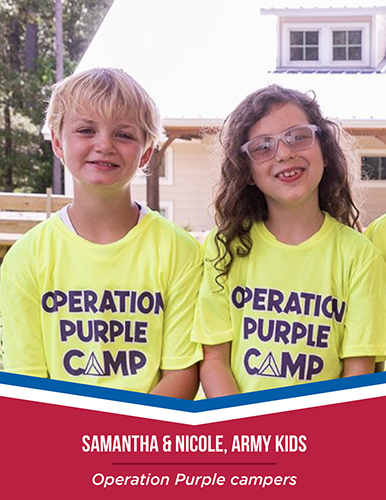 Samantha, 9 + Nicole, 8
Army kids
What made you both friends at Operation Purple Camp?
Sam: We're best buddies. Because we're both quiet and like reading.
Nicole: I like that she is really good with understanding.
Sam: We like to talk in the corner of our bunk when our cabin members are being loud.
Nicole: We can still hear them but they're less loud!
Operation Purple Family Retreats
"The multiple deployments, through time, takes its toll. Making the connections with like families at Operation Purple Family Retreats has definitely helped us. The kind of experiences we got from this program are amazing. It's impacted our lives quite a bit."
-The Juarez Family, Air National Guard veterans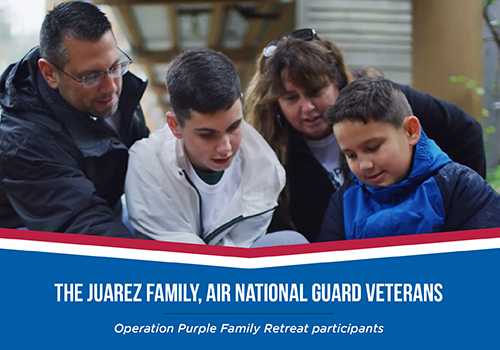 Operation Purple Healing Adventures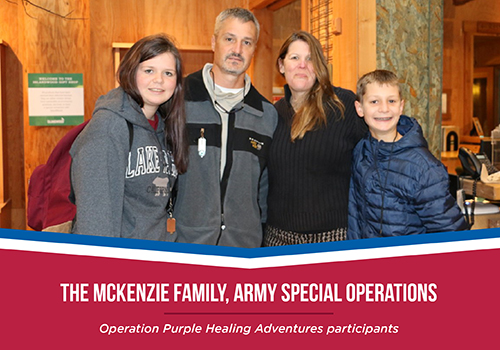 "The thing about PTSD is that you don't really understand that you have it until it's pointed out to you. There's been no judgment, no expectations, at Operation Purple Healing Adventures, and it has provided every family the opportunity to just reconnect. The fun has been the best therapy. This program really has made a difference—they don't just talk about supporting veterans—it really is making an impact."
-The McKenzie Family, Army Special Operations