How the NDAA Could Impact Your Health Care
By: Karen Ruedisueli, Government Relations Deputy Director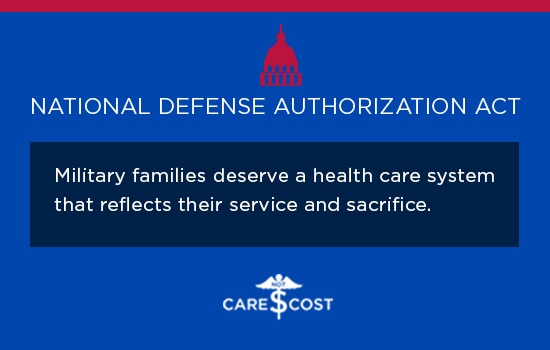 For months we've been hearing from Congress that 2016 will be the year of military health system reform. We've given our testimony on the Hill, attended dozens of meetings and sat on panel discussions with members of Congress, all to make sure that military families' concerns about cost, quality and access to care were heard.
Congress' plans for military health reform are included in the National Defense Authorization Act (NDAA). The massive piece of legislation sets policies and funding levels for the Department of Defense (DoD). And while both the House and the Senate have passed their own versions of this bill they contain very different visions for the future of military health care.
These differences must now be resolved in conference. After reviewing the bills we have some idea of what changes to the Military Health System might look like – and it's a mixed bag.
What should military families expect? 
First, the good news:
Urgent Care Access: We were happy that both the House and Senate removed the urgent care referral/authorization requirement. If the NDAA is signed into law, this will be a huge win for military families who have shared with us the challenges they face in accessing care when sick or injured.
Autism Care: Congress listened to advocates who were concerned about reduced reimbursement rates for Applied Behavior Analysis (ABA) therapy. Both the House and Senate require DoD to reinstate ABA reimbursement rates to their former levels. This will help ensure families can access the care they need.
Appointment Scheduling: Both the House and Senate included provisions to address scheduling challenges. We think the House's plans for "first call resolution" – i.e., you won't be told to call back another time – and a six-month window for appointment scheduling will better address the problems families face. However, we can see the potential benefit in the Senate's proposal for a centralized appointment scheduling process.
Reserve Component Coverage: We appreciate that both the House and Senate addressed our concerns regarding Reserve coverage by requesting reports on problems these families face with health care during activation periods as well as an evaluation of potential alternative health coverage options.
And then there's the fees (you knew this was coming):
Both the House and the Senate have proposed significant changes to the fees military families and retirees pay for health care. We recognize TRICARE fees must evolve, and we acknowledge that increasing some beneficiary fees over time is preferable to random sporadic increases. That said, we oppose some of the fee changes outlined in the House and Senate versions of the NDAA:
Fee increases for new service members after 2017: The House bill includes a provision that would maintain current fee levels for current retirees and anyone who enters before January 1, 2018. Service members who join the military on or after January 1, 2018 would face increased out of pocket expenses. In addition to introducing a level of complexity we doubt TRICARE could manage, this provision would lead to decades in which newer, junior service members paid more for health care than senior officers. This is both unfair and unacceptable.
Enrollment fees for active duty families: We are opposed to creating unprecedented TRICARE enrollment fees for active duty families. Health care is not "free" for military families. It's a benefit based on extraordinary demands, risks and sacrifices associated with military service.
Enrollment fee/catastrophic cap increases: We are opposed to the Senate's catastrophic cap and enrollment fee increases. It is unacceptable to dilute the military health care retirement benefit with fees and increases just when those who shouldered more than 15 years of war are reaching retirement eligibility.
As Congress moves to resolve differences in the two bills, we ask them to keep in mind the unique demands of military service. Service members and their families make extraordinary sacrifices. They need a health care system that recognizes and rewards them for their service, while keeping them ready for the challenges they face. Our families deserve nothing less.
Click here to read our letter to the FY17 NDAA Conferees.
Posted August 2, 2016