Hey Congress, Expand the Work Opportunity Tax Credit to Military Spouses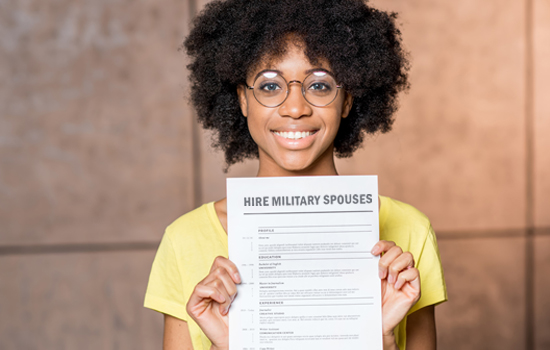 Good jobs are hard to find – but they don't have to be.
For millions of Americans, good work is easier to find because their employers participate in a program called the Work Opportunity Tax Credit that gives them a tax break for hiring people in certain demographic groups. You may be familiar with the program and not even realize it: The Work Opportunity Tax Credit is what gives employers that extra incentive to hire a veteran!
But veterans aren't the only ones who have a hard time translating their resumes after military service and convincing employers they're worth hiring over another equally qualified candidate.
Military spouses know all too well how hard it can be hired – that's part of why military spouses faced an unemployment rate of 24% before the pandemic started. Anecdotally, we know that like their civilian peers, even more military spouses are looking for work now than they were before.
Military spouses applying for the National Military Family Association (NMFA)'s spouse scholarship program tell us how hard it is to find a job – and how their marital status is often cited as part of the problem. For Rachel N., an Army Spouse at Fort Hood, the effects marrying into the military would have on her career caught her completely by surprise.
"People shared an array of unsolicited opinions surrounding my marrying into the military," she told us. "Yet one major aspect was overlooked: Nobody wants to hire the spouses." Rachel successfully worked in behavioral health for five years before she got married, but their first PCS dramatically changed her professional outlook.
"Prospective employers will blatantly say they do not like to hire military spouses," she said.
Extending the Work Opportunity Tax Credit to military spouses could change that. It would incentivize employers to hire qualified military spouses, even if they're worried you might be moving down the road. (Fun fact: While military spouses move every two to three years on average, the median length of tenure at a job for Americans aged 24-35 is only 3.2 years anyway.)
Including military spouses in the Work Opportunity Tax Credit would allow military spouses to pursue their careers – adding to the financial security of their families and their fulfillment as individuals – and offer employers a financial incentive to boost their local economies and fill vacant positions with qualified military spouse candidates.
That's good news for everyone.
Long a champion of the expansion of the Work Opportunity Tax Credit to military spouses, NMFA has pursued various avenues for its legislative inclusion. Now, a new opportunity to include military spouses in the Work Opportunity Tax Credit is being considered in the bipartisan, bicameral Jobs and Childcare for Military Families Act, which was re-introduced on Military Spouse Appreciation Day in May 2021.
As our nation's economy recovers from the pandemic, extending this tax credit to military spouses offers an important avenue for military spouses to get back to work — and employers to benefit from hiring them.