Grocery Shopping Shouldn't be Stressful: Saving the Benefit for Military Families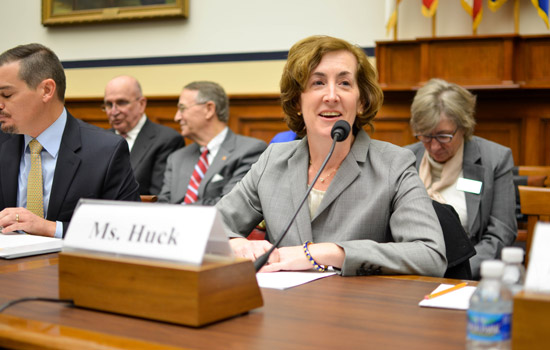 Commissaries are, once again, in the hot seat and NMFA took to the Hill January 13 to plead the case for military families. The Personnel Subcommittee of the House Armed Services Committee held a hearing to consider changes that would save money. The Department of Defense (DoD) has been struggling to make budget cuts, and the commissary continuously comes up as an option for reform.
Some ideas being considered include increasing prices, private label products, and cutting store hours. NMFA Government Relations Deputy Director Eileen Huck testified that families who regularly shop at the commissary save 30% over civilian grocery stores. She pleaded with Congress to proceed carefully before making any changes.
"The commissary provides all military families with the assurance they can put food on the table at a reasonable cost regardless of their location," said Huck.
Tom Gordy, from the Armed Forces Marketing Council, presented evidence showing even a 5% increase in price would mean a 20% decrease in commissary traffic. This is a problem because if fewer people shop at commissaries in highly populated areas, there's less money to fund those in remote locations—where they are critical, and are often home to single-income, junior enlisted families. Reducing foot traffic would also reduce funding for Morale Welfare and Recreation (MWR) programs, which are vital in these areas.
Brooke Goldberg, from the Military Officers Association of America, testified, "Any time you mess with the savings level, any time families perceive a threat to the savings they receive when they go through the door, you risk their loyalty."
Rep. Tim Walz (D-1st/MN) made a statement echoed multiple times throughout today's hearing: "With all the stress in military life, grocery shopping shouldn't be one of them." He talked about the psychological benefit of the commissary, and that unintended consequences of the proposed changes have not been studied. He shared his concern for military families, who often face unimaginable stress saying, "Consistency is absolutely critical." Commissaries provide an earned benefit that isn't just monetary. They are an important part of military culture and a gathering place for families to connect.
Are we opposed to changes to the commissary? Not necessarily.
"We are focused on transparency when we are talking about changes to the commissary system," said Huck. She went on to say changes should be made with extreme caution and should minimize any impact on our service members and the families who stand behind them, "All changes need to be clear to families."
Posted January 13, 2016