Free Special Education Advocacy Curriculum

Military Life is Tough, School Shouldn't Have to be
Military children with special needs face greater obstacles during Permanent Change of Station (PCS) and school transitions than their peers. When parents have the right tools to advocate for their special needs child, the child can put their best foot forward in their new location, school, and community.
We Can Help
Parents of eligible military-connected children with disabilities can apply to access a free, special education curriculum that will empower them to be their child's best advocate. The curriculum is produced by the Arc, a national, community-based organization that advocates for people with disabilities.
Award Notifications
Awardees will be notified by email.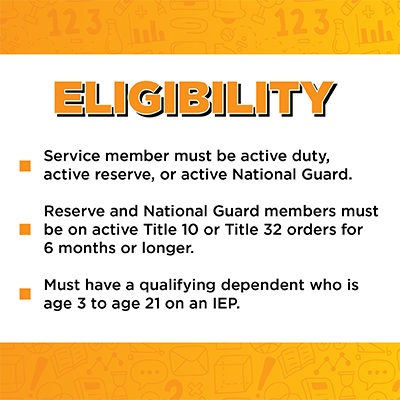 About the Curriculum
Designed for parents and non-attorney advocates of students with special needs.
Teaches parents to navigate the special education system, including early intervention services, Individualized Education Plans (IEP), Section 504, and more.
​The self-paced curriculum is comprised of eight, hour-long modules. Includes a pre-test, a listening guide, narrated videos, a post-test, and additional resources.
This curriculum may qualify for continuing education credits.