Find Your Niche: Career Groups for Military Spouses
By: Margarita Cambest, Staff Writer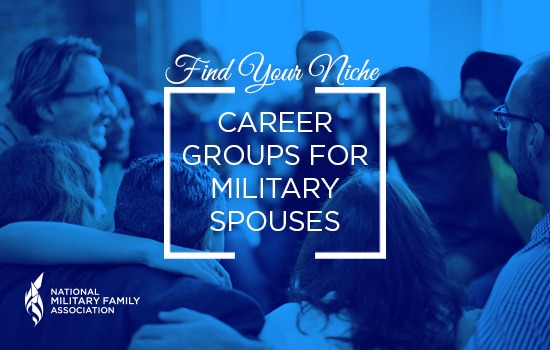 Being a career-minded spouse isn't so bad when you're stationed in some parts of the world, but what does a military spouse do after landing in more remote locations like Fort Leonard Wood, in the Missouri Ozark Mountains, or Joint Base Elmendorf-Richardson in Alaska?
Trying to continue a career path alongside a life filled with military moves to out-of-the-way installations can make spouses feel like they're the only other ones in the career game.
What if you could find a group of like-minded career spouses to hang on to throughout your spouse's career and beyond? When military life throws a wrench in life's plans, it can be a good time to turn to the power of networking.
Thinking about pursuing or maintaining a career in law, mental health, STEM fields or anything else? These groups have you in mind.
MilSpouse Network for Mental Health Professionals
The National Military Family Association and Give an Hour, with the support of United Health Foundation, have teamed up to ease military spouses' transitions from graduate school through licensure to jobs in behavioral health. NMFA's Military Spouse Mental Health Profession Pipeline includes a public Facebook group, connections to mentors and clinical supervisors through Give an Hour's network and access to the Military Spouse Behavioral Health Clinicians private Facebook group. MSBHC is a collaborator in the pipeline. You can ask for advice in following a mental health career path, find support for your career and learn about education assistance available from NMFA.
Military Spouse Behavioral Health Clinicians (MSBHC) is an organization by military spouse clinicians for military spouse clinicians. Their mission is to improve access to education, employment and licensure resources for military spouses in the behavioral health fields. To do this, they lobby Congress for things like licensure reciprocity, accreditation and supervision assistance, all while connecting spouses across the world through their private Facebook group.
TheMilitary Spouse JD Network is a network started by two military spouse attorneys to support other spouses in the legal profession. They advocate for bar membership without examination for military spouse attorneys in every state, educate the community about the challenges facing military families and provide a network for spouses to connect with and support each other.
The Society of Military Spouses in STEM was formed just this year by two engineering military spouses determined to overcome the challenges of maintaining a career with the military lifestyle. Their Facebook group now has more than 100 members and provides support to fellow active and retired military spouses in science, technology, engineering and mathematics (STEM) fields.
The National Military Spouse Network (NMSN) offers support for professional military spouses through their online portal as well as in-person events. They even host an annual Military Spouse Career Summit. Membership fees are charged yearly.
Recently incorporated into the U.S.  Chamber Foundation's Hiring Our Heroes, In Gear Career fills a big gap in most military spouse's job search and professional development—networking. According to Hiring Our Heroes, about 40 percent of positions are filled through employee referrals, but military spouses often move to a new location knowing only their spouses. That's where In Gear Career steps in to offer professional development sessions and networking meetups. You can join chapters across the country—even overseas.
The Other Side of Service is a networking group for military spouse professionals. They harness the power of community to connect spouses with mentorship programs, educational activities, advocacy and conferences. Check out their blog when you need inspiration. It's full of stories of military spouses professionals making their careers work.
The Career Military Spouses group was created for active duty, Guard and Reserve spouses who work full time and those in search of full-time employment. The group is used by more than 1,600 spouses to network and share job postings and professional development information.
Other Professional Organizations
Just because you're a military spouse doesn't mean you should only network with other military spouses. Seek out general career organizations as well to expand your reach to an even larger network of like-minded professionals and entrepreneurs, military or not.
We've highlighted a few resources for the career-minded military spouse, but we know there are plenty more out there we haven't mentioned. Have you used any of these groups to kick start your career? Do you know of others? Tell us in the comments.
Posted August 25, 2016