Find Your Next Job as a Military Spouse
By: Katie Savant, Government Relations Issue Strategist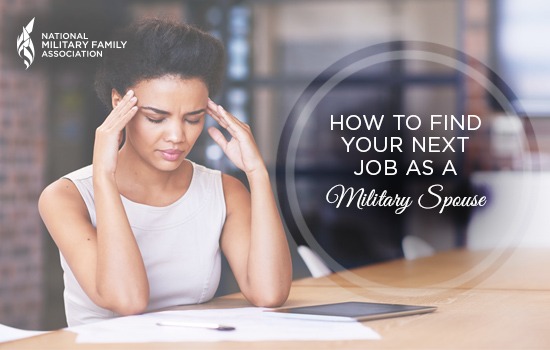 It's just past peak PCS season and this time of year, we often receive phone calls, emails, and Facebook posts asking for help on the job hunting front. From resume questions to tips for getting your foot in the door, an already challenging process can be especially daunting for military spouses after a move.
So without those professional network connections at a new duty station where do you turn?
Start with these resources.
Employment Readiness Specialists: If you live near an installation, your installation's employment readiness program is a great place to start. Versed with all of the military and nonmilitary resources in your community, they can offer one-on-one support and group sessions. You can find local employment readiness specialists by location or installation on MilitaryInstallations.
SECO: If you don't know this acronym yet you should. Spouse Education and Career Opportunities (SECO) is a comprehensive program dedicated to virtual education and career support just for military spouses. SECO can meet your education and career support needs online or by phone, a lifesaver with frequent moves. They can even help you find the right educational program and guide you in creating a federal resume so check them out before your next job search.
MSEP: The Military Spouse Employment Partnership (MSEP) is another acronym to know. MSEP is more than a job board. MSEP partners have made a commitment to hire and retain military spouses. If your resume is ready to go and you know your targeted career field, the MSEP job board is a great place to look for local and virtual jobs.
Government Employment: Whether you want to be a public servant or hope securing a federal job will help with future transfers, working for the government can definitely benefit military spouses. You can find listings for federal employment on the usajobs.gov website. Governmentjobs.com also provides listings of public sector jobs across the nation.
Get social and build your network.
More and more employers are networking and recruiting for employees through social media, specifically LinkedIn and Twitter. While in-person networking is still important it's also helpful to build your network virtually.
Do attend alumni events or even check out events hosted by your local chamber of commerce but also make sure to update your LinkedIn profile and review the privacy settings on your other social media accounts. You want to put your best face forward and remember to keep it professional.
Posted August 2, 2016