Fact or Fiction: Are You Overusing Military Health Care?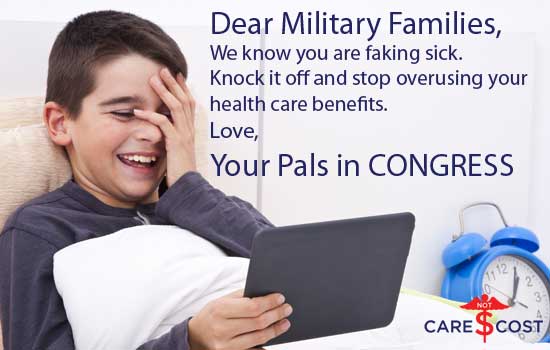 Military families, we need your help. Congress believes your access to "free" health care leads you to overuse it. You can hardly blame them. The idea that military families flock to Military Treatment Facilities (MTFs) for free, but unnecessary appointments has been repeated so many times and in so many venues, it has become an urban myth. NMFA believes it is critical to challenge this urban myth NOW. Why?
Four words: Military Health System Reform.
Capitol Hill's heightened concern about overuse of military health care can be traced to the Military Compensation and Retirement Modernization Commission. Their final report included a chart showing TRICARE Prime beneficiaries have 73% more hospital admissions than civilians enrolled in employer-sponsored HMO plans. The same chart showed TRICARE Prime beneficiaries have 55% more outpatient medical appointments than civilians in HMOs.
Our Association doesn't dispute the usage data. We do, however, challenge the assumption that low out-of-pocket costs are the main driver of high utilization rates. Based on feedback we hear from families, we believe MTF and TRICARE policies contribute to high military family utilization by requiring families to use more health care than necessary. For instance:
"I went to see my doctor for back pain and he asked me if I wanted to discuss the upper back or lower back. We couldn't talk about both. I had to make a second appointment."
"We PCS'd when I was 34 weeks pregnant. I had to take a pregnancy test at our new MTF before they would schedule my routine OB appointment."
"My 3 ½ year old daughter broke her arm. I called the clinic but there were no appointments available so I was told to go to the closest ER. The ER confirmed a broken arm and put her in a temporary cast/sling with instructions to go to Ortho. I called Ortho at Portsmouth Naval and wasn't allowed an appointment without a referral, so we had to schedule another appointment with her PCM just to get the referral."
"I had 5 primary care appointments at the MTF for the same issue, but I never saw my own PCM – it was someone different every time. Even though they all told me my symptoms were nothing, I knew something was wrong. I finally switched to TRICARE Standard. At my first civilian appointment I was diagnosed with a condition that required urgent surgery."
Shouldn't MHS Reform seek to answer why military families use so much health care and, importantly, why military beneficiaries are hospitalized at much higher rates than civilians?  After all, even if you wanted to check yourself into the MTF for a little rest and relaxation – because, after all, it's FREE! – you can't just go in and demand an inpatient stay. Instead of raising fees to discourage military families from seeking health care, we believe this issue demands a full analysis of the drivers behind high utilization rates. 
Have you been required to use more health care than necessary due to MTF or TRICARE policy?  Please share your stories so we can show Congress there is more to the high utilization rates than low out-of-pocket costs! If you share an example, please be specific. Detailed stories make an impact where "happens all the time" doesn't accurately identify the issue.
Posted April 5, 2016