Every Sacrifice Counts Until Someone Says THIS
By: MJ Boice, Staff Writer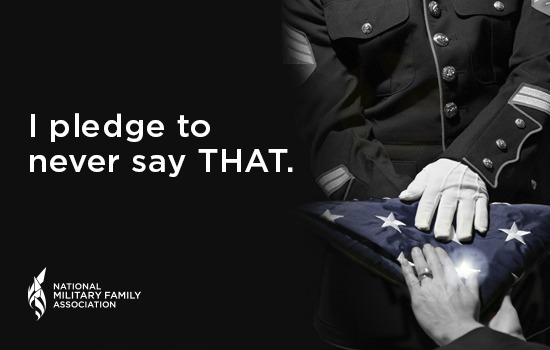 "He knew what he signed up for."
By now, you've likely seen these words all over the internet.
President Trump has been quoted as telling a newly widowed spouse "He knew what he signed up for, but when it happens, it hurts anyway." The President denies saying those words about the service member, who was killed in an ambush in Niger earlier this month. So let's put that aside and focus on this:
Most military families have had that phrase said to them more times than they care to count. Sometimes it's in response to a service member's death. Other times it's when a family is coping with another deployment, another PCS, another new school.
And no matter who they come from or when, the fact is those words hurt.
"That statement implies that the sacrifice doesn't count", said Army spouse Rebekah Sanderlin. "It's the ultimate slap in the face to any military family, and especially to one that has suffered a loss. Do not ever say that."
Bottom line: NO military family knows "what they're signing up for" because military life is in a constant state of change and uncertainty.
Service members do not know whether or not they will be wounded or killed.
Military spouses do not know whether or not they will find a job or remain unemployed. 
Military kids do not know whether or not they will ever fit in to any community since they come from everywhere.  
"NOBODY knows what they've signed up for. Ever," said Army spouse Randi Cairns. "We live in a country where men and women write blank checks for ALL of us. And if that check is cashed, it makes their lives no less valuable and the loss of those lives no less tragic."
So what can we say to grieving military families?
"People struggle when talking to families dealing with loss," said NMFA Executive Director Joyce Raezer. "When talking with surviving spouses and families, we always need to ask ourselves how we add to the healing and not the pain."
Joanne Steen, surviving spouse and author of "The Military Widow" has the following recommendations:
A good, safe choice of words of condolence is simply, "I'm sorry for your loss." A better choice of words is "I'm sorry for the loss of (…your son, daughter, husband, wife, and use their name.)"
And ask about the person the family lost. Surviving families like to talk about their loved ones. In fact, they need to talk about them because it's a healthy part of the grieving process. But don't ask about how they died, ask about how they lived.
No military family ever truly knows what military life will hold for them. And as a country, it's important for us to continue to honor those who have paid the ultimate price in a way that shows our immense gratitude. It's hard to know the right thing to say, so let's at least agree not to say the wrong thing.
Let's agree to never, ever say THAT.
Posted October 18, 2017