It's Time to End the Widow's Tax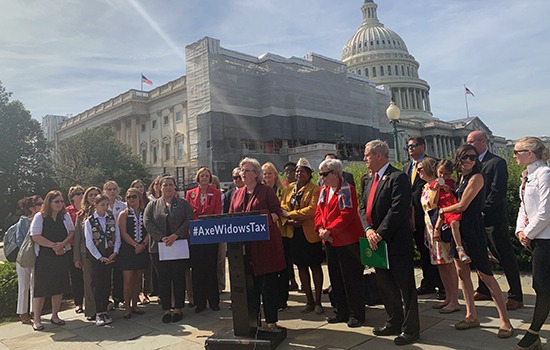 You're a military spouse.
That means there's a 24% chance you're unemployed…
A 99% chance you've spent an anniversary apart from your spouse….
And a very high likelihood you've navigated multiple deployments.
For more than 65,255 military spouses today, becoming any of those statistics would have been better than the one they became a part of: they are the surviving spouses.
In 1969, NMFA started work to make sure surviving spouses could be financially stable, even after their service member was laid to rest. We worked to ensure the Survivor Benefit Plan (SBP) was enacted as a way for America to honor the dead while they thank and support the living.
Surviving spouses can also receive Dependency and Indemnity Compensation (DIC) through the VA — but for every dollar they receive of DIC, they lose that amount from their SPB benefits. To make matters worse, a recent change in tax law means some survivors are paying up to 37% on their earned benefits.
To simplify a very complicated topic: we're taking money away from surviving spouses, another blow to what they've already lost. 
Ahead of the Memorial Day weekend, NMFA, TAPS and VFW are storming the Hill in support of a bill to end what's often called the widow's tax.
The bill is sponsored by Rep. Joe Wilson (R-SC) and Rep. John Yarmouth (D-KY), Chairman of the House Budget Committee and today they joined military widows and our Government Relations Director Kelly Hruska on the Capitol steps to support the Military Surviving Spouses Equity Act.
"We have worked for decades to eliminate the widow's tax. Now is the time to get it done," said Hruska.
With Memorial Day weekend upon us, it's time to reflect as a country about the sacrifices made by our service members and their families. And that sacrifice is never greater than it is for surviving spouses like Gabby Kubinyi whose husband, Petty Officer 2nd Class Jefferey L. Ferren died seven years ago.
"This tax is egregious. It's unacceptable that surviving spouses continue to be asked to sacrifice for this country when that's all they've already done."
Or longtime NMFA volunteer and surviving spouse Edie Smith, whose husband retired after 21 years into the Marine Corps and then found himself too sick to work in the years before he died.
"He tried to provide for his own family. We trusted the annuity he bought would be honored by the government… honor the sacrifice of the dead by restoring the survivor benefit to their spouses."
As of May 22, the bill has 70 co-sponsors in the Senate and 312 co-sponsors in the House committed to ending this inequity. You can support the bill and surviving spouses on social media using the hashtag #AxeWidowsTax.