DoD Survey Finds Troops and Spouses Doing Slightly Better
By: Margarita Cambest, NMFA Journalist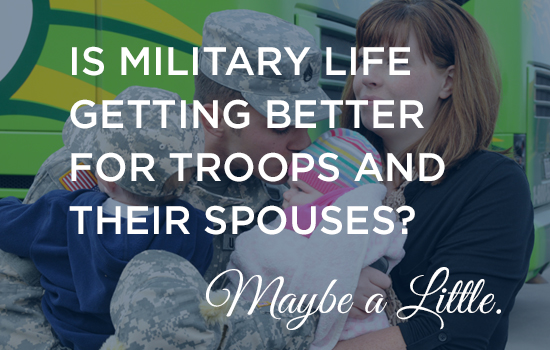 The overall satisfaction, finances and marriages of our troops are generally better off now than during the height of the wars, according to Department of Defense survey findings released last week.
Analysts from the Defense Manpower Data Center and the Defense Research, Surveys and Statistics Center presented the 2015 Survey of Active Duty Spouses and the 2013-14 Status of Forces Survey of Active Duty Members July 7.
The Department of Defense (DoD) surveyed 45,000 spouses in 2015 and 135,000 active duty service members in 2013 and 2014 from all Services, ranks, and other key demographic characteristics.
"It's encouraging to see from the survey data that troops and their spouses report fewer financial problems and greater satisfaction with military life than in recent surveys," NMFA Executive Director Joyce Raezer said. "Some issues, especially the military spouse unemployment rate, remain troubling. We hope DoD will intensify its efforts to address problem areas and target additional support where the survey findings indicate help is needed."
Spouse survey highlights:
The spouse unemployment rate of 23% was slightly lower in 2015 than the 25% rate from 2010 but higher compared to 2006 to 2008.
66% of spouses remain in the labor force—meaning they're employed, unemployed and actively looking for work. The remaining 34% either don't want a job or have stopped looking for various reasons, especially child care costs.
Unemployed spouses had been looking for work about five months on average.
Army, junior enlisted (E1-E4) or minority spouses and those younger than 26, who experienced a PCS in the past 12 months and had little or no college education were most likely to be unemployed.
17% percent of E1-E4 spouses reported being dissatisfied with military life.
About 70% of Air Force spouses say they're satisfied with military life—higher than any other service.
85% of spouses overall said they were satisfied with their marriage.
Active Duty survey highlights:
The Air Force reported the highest satisfaction rating among the troops, as well.
Marine Corps members said they had the least amount of support to stay in the military from their significant other or family
A higher number of junior enlisted members' significant others and families favored them leaving as compared to more senior service members.
Servicemembers report feeling more comfortable with their finances than any year since 1999 (except June 2012). However, 17% of active duty spouses reported having financial problems.
Army members reported significant improvement in their personal relationships compared to 12 months ago.
There was a downward trend of nine identified problems during deployment over the years, including loneliness, being a single parent, dealing with issues alone, and technical difficulties communicating.
According to DoD, the survey findings show overall improvement, but there are still vulnerable populations. The plan is to use the research to evaluate the effectiveness of military programs—like MyCAA and Military One Source—and improve spouse employment, relationship management, and troop and family satisfaction.
NMFA is also encouraging DoD to release the survey findings sooner to help commanders and family support providers better respond to military family needs. The outreach to military and veteran service organizations is an important first step.
Were you surveyed? Are you feeling better off than in the past? Tell us more in the comments section below.
Posted July 11, 2016