Do These 2018 Tax Filing Changes Affect Your Military Family?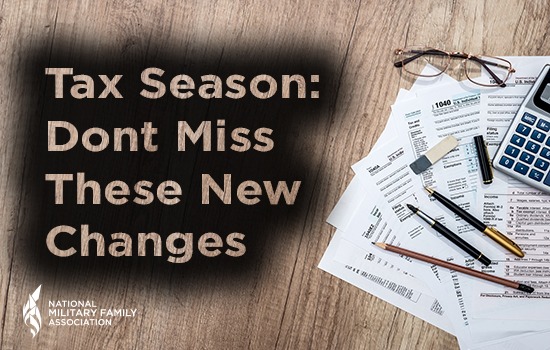 By: Jennifer Davis, Government Relations Deputy Director
Tax season is here, and we know it can be daunting for some. But we've got you covered with the most important reminders and changes your military family should know about. Keep in mind, some of these changes are temporary and are set to expire in 2025, unless renewed.
What's changed?
The New 1040.
There is no longer a 1040EZ or 1040A. Instead, the new and simplified 1040 consists of two half-pages and has all the relevant information for the IRS without overburdening the taxpayer.
What to watch for: Tax preparers may stack the pages to save space and leave you with one page. While this may be appealing and environmentally conscious, filers should know that the IRS will not accept a stacked 1040. The pages of the form must be divided into two separate sheets. Additionally, next tax season the new 1040SR will be introduced for senior taxpayers.
Speaking of streamlining, military spouses now have the option to change their state of residency to that of their service member spouse's even if they've never resided in the state. Making this change may ease the tax return process for some families who have previously filed state taxes in multiple states.
No more exemptions.
In past years, individuals could claim an exemption for themselves and their dependents. However, this portion has shifted completely to the "dependent" section. Experts say that streamlining this area should produce fewer issues with claiming dependents.
What about credits?
Various credits come into play including the child tax credit and credit for other dependents who have resided with the taxpayer for at least six months. This year, the child tax credit is $2,000 per child under age 17.
What to watch for: A child being claimed must have a valid social security number (SSN). Individual taxpayer identification numbers (ITIN) are no longer accepted for the child tax credit. Credit for other dependents is $500, and applies to those with a SSN or ITIN and those who are 17 years or older.
And deductions?
Standard deductions have doubled for the 2018 tax season! This means that married couples filing a joint return and qualifying widows or widowers can claim a standard deduction of $24,000; single and married couples filing separately can claim a deduction of $12,000; and head of household filers can claim a deduction of $18,000.
And beginning this tax season, alimony is no longer deductible for the payer or taxable for the payee regarding divorces settled after December 31, 2018. Previous settlements are grandfathered and unchanged regarding taxation.
Want to itemize your deductions?
This year filers can either itemize or take the standard deduction; no partial itemizations will be accepted. If you're itemizing, keep this in mind:
Medical expenses exceeding 7.5% of adjusted gross income can be included. Next tax season, the medical expenses floor is expected to increase to 10%.
State, local and property taxes deduction caps are $10,000, or $5,000 if married filing separately.
Mortgage interest, which can be deducted for newly attained homes, has a new cap of $750,000 for debt acquisition date on or after December 16, 2017. Mortgages attained before that date are grandfathered in at the previous $1M limit.
Home Equity Lines of Credit can be itemized only if the funds are being used for the purposes of home buying, building, improvements, or renovations.
Charitable donation itemizations are now limited to 60% of adjusted gross income versus 50% as in previous years.
Claims for casualty losses are limited to those of a Presidential-declared emergency.
But there's more!
Students with 1098-T's
This form will now include the amount of tuition and related expenses paid by the student versus simply showing the total amount billed. Since students must enter the amount paid, this makes the information included on the 1098-T more useful to filers.
And finally, some reminders for your military family as you prepare your 2018 taxes.
Your service member will need to document their health care insurance to avoid a penalty. Next filing season, the penalty will be set at $0. This does not mean that the penalty is eliminated, however. The change in penalty amount is temporary and can be altered by Congress in future years.
And finally, don't forget when the deadline is to file. While the majority of filers have a due date of April 15, Maine and Massachusetts residents' tax returns are due April 17.
Deployed service members are granted an extension: the number of days left in the filing season (starting with the last day in combat zone) plus 180 days. Additionally, service members who were killed in action or have died as a result of injury sustained while in a combat zone or during military action can have their tax liability forgiven for the year in which the death occurred or the year in which the injury occurred and one year prior.
Do you qualify for Earned Income Tax Credit (EITC)? As in previous years EITC can be claimed if earned income and adjusted gross income are at or below certain levels. Since income caps tend to shift from year to year, it's important to highlight allowable income levels for claiming EITC in relation to filing status and number of qualifying children claimed.
Nothing has change with moving expenses due to military orders for Armed Forces! Reimbursed expenses incurred due to PCS are not taxable for service members. However if qualified expenses due to PCS were not reimbursed, they can be claimed as a deduction.
Still have questions about filing your taxes, or any of the new changes this year? Visit Military OneSource's Tax Resource Center, the closest installation Office of the Staff Judge Advocate Tax Center or look up the IRS's Publication 3: Armed Forces' Tax Guide, which provides step-by-step guidance for service members and their families.