We Can Do More for Our Gold Star Families
By: Margarita Cambest, Staff Writer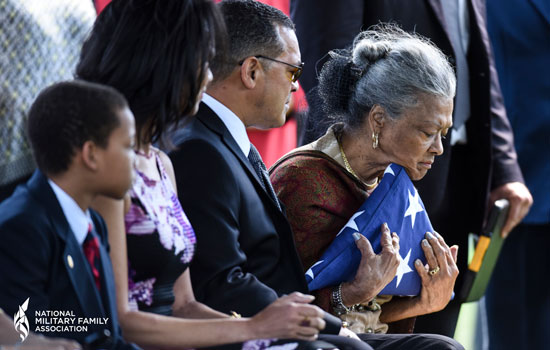 With both sides of the aisle recently throwing military families into the political crosshairs, many Americans, and maybe even some military families, are hearing about Gold Star Families for the first time.
The Gold Star designation, given to the surviving loved ones of service members killed in the line of duty, comes from a World War I tradition of flying a flag embroidered with a blue star for each immediate member of the family serving in the military. If the service member passed away that blue star would be replaced with a gold one. While different services have their own versions of Gold Star support organizations, they all bring together the families of fallen service members.
Our Gold Star families are not a political tool.
Losing a loved one is not a partisan issue, but having compassion and empathy should be every American's issue. However, while we've written about the resources available for family members before, not everyone knows exactly how to show their support.
It's a problem Phyllis Sisson has experienced firsthand.
Her son, Army 2nd Lt. Justin Sisson, died in 2013 after an IED exploded while he was on patrol in Afghanistan.
"Some people are afraid to say anything about our loved ones because they're afraid they're going to remind us that they're dead," she said. "We don't have to be reminded."
Often well-meaning acquaintances don't know how to speak with the Gold Star Mother. New friends are uncomfortable when they learn of her son's death. She says it's sometimes easier to tell them her son is in Kansas, but not that he's buried there. Family friends have also shied away from mentioning her son in conversation with the false belief that just the act of bringing up his name will upset her.
"We're not toxic. We do want to be able to speak about our loved ones."
The easiest way to support Gold Star Mothers and Families, she says, is to let them speak up and often.
Phyllis speaks about her son to patriotic groups and military affiliated organizations. She'll tell you about Justin's love for Yoo-hoo and MoonPies, his love of country and the Florida State University Seminoles, and a "fighting spirit" that carried on throughout his life and into his death.
"Let us talk about our loved ones. Don't be afraid if we cry. We're going to cry but we need to be able to talk about them. That's the only way we're going to get over our grief."
Sisson has been memorialized by his former high school, a highway is named after him in his hometown of Overland Park, Kan., and the Justin Sisson Outstanding Cadet Award at Florida State University was set up at his alma mater for ROTC Cadets that embody the traits that Justin stood for—academics, leadership and military service. The good done in her son's name doesn't make the pain go away but it does help soothe it.
"Our worst fear is that our loved ones are going to be forgotten," she explained. "We don't want them to be forgotten. We have this huge hole in our heart and our family, and we need to be able to remind people that they're still a part of our family even though they're not here."
Since 2009, the last Sunday in September is designated as Gold Star Mother's and Family's Day (originally just Gold Star Mother's Day) but the need to show support for everyone impacted by the loss of a service member exists year round. You can do your part by listening to these families' stories.
How Else Can You Help?
Lend an ear to family members who want to share stories about their loved ones.
Understand that not everyone grieves in the same way—follow the family's lead in what kind of support they need from you, but let them know you are with them along the journey.
Remember that one service member's death affects many across multiple generations and relationships—spouse, children, siblings, grandparents, parents, significant others, co-workers and friends. Open your heart to all who feel the pain of loss.
Recognize surviving family members at Memorial Day and other events where you are recognizing the fallen.
Help Gold Star families in your community by offering to help with household repairs, transportation or connections to local support groups.
Help connect surviving family members with available military and community resources, such as those on Military OneSource.
Donate to or volunteer for a group that supports surviving family members.
Tell your members of Congress to fund needed benefits, counseling and support programs for surviving family members.
Posted August 11, 2016