Dealing With Food Insecurity in a Pandemic? What Military Families Need To Know.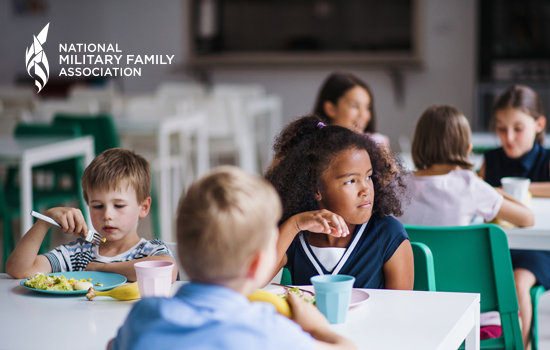 Even in normal times, some military families struggle to put food on the table.
Eighty percent of military-connected school age children attend public schools, and many rely on free and reduced price lunches at school. The Defense Commissary Agency reported that nearly $55 million in Supplemental Nutrition Assistance Program (SNAP)  benefits were spent in military commissaries in fiscal year 2018.
For tens of thousands of military families, these school-based meals and safety net programs like Special Supplemental Nutrition Program for Women, Infants, and Children (WIC) and SNAP provide critical nutritional support.
In times of crisis, these programs are even more important.
To date, the President has signed into law the Coronavirus Preparedness and Response Supplemental Appropriations Act, 2020 (Public Law 115-123), which provides $8.3 billion for combating the spread of the coronavirus at the local, state, national, and international levels in response to the COVID-19 pandemic.
On March 18, the President signed a second stimulus package, Families First Coronavirus Response Act, which provides paid sick leave, free medical testing, unemployment benefits, and meaningful expansions of food assistance programs.
School-Based Meal Assistance Programs
Right now, school districts are scrambling to meet the needs of students who rely on school-based meals. The new law provides waivers for how school districts are able to deliver these meals, providing flexibility for where the meals are delivered and what is served.
The new law also provides expansions for school meal programs during school closures — which is critically important for school districts facing long-term closures, like those in Kansas.
Supplemental Nutrition Assistance Program (SNAP)
Families affected by virus-related school closures are also scrambling. For those who have experienced school closures of five or more days, the new law provides for emergency financial assistance to ensure that children who would have otherwise been eligible for a free or reduced-price meal don't go hungry.
The law also allows states to provide emergency SNAP benefits in some instances and suspends the SNAP work requirements.
Special Supplemental Nutrition Program for Women, Infants, and Children (WIC)
The new law provides an additional $500 million for WIC programs, which support families with pregnant or nursing mothers and children up to age 5. Forty-two percent of military children are under age six, and many families — particularly those E-6 and below — qualify for WIC. WIC can help cover formula (including specialty formulas like Alimentum, Elecare, and Neocate) and additional nutritional supports for toddlers (like Pediasure and Elecare Jr.).
Many large installations have WIC offices on or near base. You can review WIC eligibility here. As with most offices, please call your WIC office to confirm their operating hours during this pandemic.
Additional Food Supports for Military Families
Food pantries operate on or near every military installation across the country, and many are run by Armed Services YMCA. If you're dealing with food insecurity, please reach out to your local ASYMCA branch to confirm their pantry's operating hours. Feeding America also has food banks across the country. You can search for one near you here.
We will continue to update this document with resources for military families experiencing food insecurity as we know more.