Congress Addresses Military Food Insecurity, Basic Needs Allowance in NDAA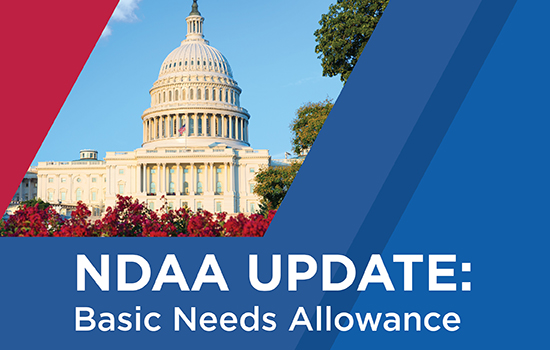 Congress has taken a huge step to address food insecurity among military families in the annual defense bill, known as the National Defense Authorization Act (NDAA) for Fiscal Year 2022.
For the first time, both the House and the Senate have included provisions to establish a Basic Needs Allowance for military families struggling to put food on the table in their respective markups of the NDAA. (Confused about where in the process we are? Here's our NDAA explainer!)
For years, military families have been telling us that it can be hard to make ends meet. We've seen the numbers of military families visiting food distribution sites operating on or around every military installation rise – particularly during the pandemic. And we know that for many of you, budgets have only gotten tighter in the last year.
That's why we've been advocating for the adoption of a Basic Needs Allowance for military — it's a surgical solution to a very complicated problem. Not all military families are struggling, but for some families, particularly in places with high costs of living, making ends meet can be challenging. A Basic Needs Allowance would allow for low-income military families to boost their modest pay so they can reliably put food on the table.
We'll better understand the details of the Senate and House's approach to the Basic Needs Allowance after they pass their own versions of the legislation, but the inclusion of the Basic Needs Allowance in both chambers' markups is very promising.
You can count on NMFA, alongside our partners, including MAZON: A Jewish Response to Hunger, to continue fighting for you while Congress does its legislative work.
No military family should go hungry.