Cocktails + Spicy Chicken + WalMart = $19,000 for Military Families
By: Margarita Cambest, Staff Writer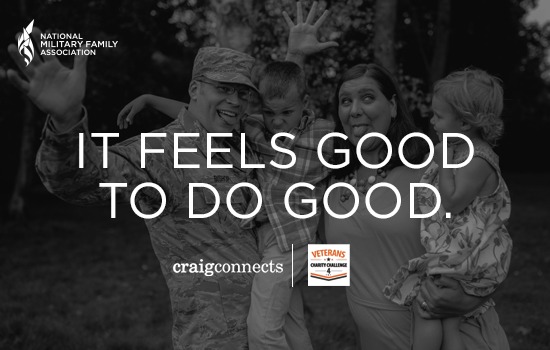 For the first time ever, NMFA placed in the top 5 of the 58 organizations competing in the annual Veterans Charity Challenge. The Challenge is put on by Craigslist founder and NMFA Board of Advisors member, Craig Newmark, and is designed with incentives for teams to raise more money for their perspective charities. NMFA placed 4th overall plus won a weekly challenge giving us an extra $3,000 to put toward our mission of helping military families.
"We make it a competition to make it fun but the real point is to help these important nonprofits connect at the grassroots with their supporters and also attract new supporters so we can really get behind vets and their families," Newmark said.
For a grassroots organization like NMFA, the competition was just what the doctor ordered. The entire office was buzzing about the challenge… which our Association turned into an internal competition that got so serious, Finance Deputy Director Linda Presley spent her weekend in the scorching heat soliciting donations from the people of Walmart.
"I learned a lot about people. And a lot about myself," she said. "There are some people who will give to military families no matter what. And those people gave to the tune of $600 that day."
PR Manager Jordan Barrish hosted a happy hour fundraiser at Bluefinn, a local bar in downtown DC. Nando's in Woodbridge, VA allowed us to host a fundraiser one night with 40% of proceeds going to NMFA. And Volunteer and Community Outreach Manager Liz Larsen turned her high school reunion into a $500 donation when she explained to her old classmates what this competition means to military families.
What are some of the things donations that came in through the challenge can do?
Provide 40 additional kids with a safe and fun place to disconnect from the stresses of military life
Help send 20 military spouses back to school to pursue their dreams
Support a network of counselors to treat military families in need.
"What I'm most proud of has been the teamwork, innovation, enthusiasm and collaborative competition I've seen among all our staff over the past several weeks," Executive Director Joyce Raezer said. "It feels good to do good."
After more than six weeks of begging kindly asking grandparents, friends, neighbors and second cousins twice removed, we are taking pause and giving thanks. Thank you to all who donated to this challenge, to all who support military families year round, and the military families themselves. We appreciate you. Together we're stronger.
Posted July 12, 2016