Changes Coming to the TRICARE Dental Program
By: Karen Ruedisueli, Government Relations Deputy Director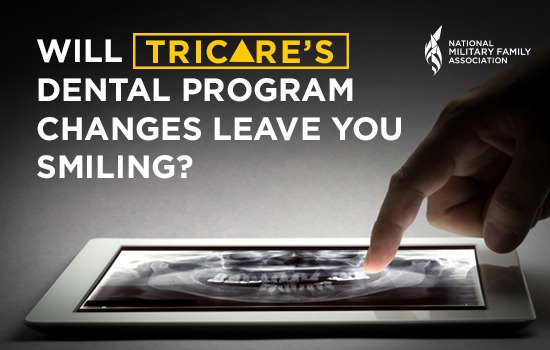 Changes are coming for military families covered by the TRICARE Dental Program. United Concordia will begin administering the TRICARE Dental Program as of May 1, 2017 for dependents of active duty, National Guard, and Reserve service members. Retirees and their families are not affected by this change and will still be covered under a separate TRICARE dental program.
What's changing with the dental plan? Certain coverages are expanding under United Concordia, including the annual maximum benefit, which will increase from $1,300 to $1,500. Sealants, a preventative that families used to pay a 20% cost share for, will now have no out-of-pocket cost.
The TRICARE Dental Plan will also start enrolling children automatically when they hit age 1 if the family already has at least one member covered under the plan. Currently, children aren't automatically enrolled until they reach age 4.
But not all changes are good. We have heard from several families that their dentists are leaving the TRICARE network due to United Concordia's reimbursement rates. This means families who want to minimize their costs by using a network dentist may have to switch dental providers.
If your dentist is dropping out of the network, you can still see them, however you will have higher out–of-pocket costs, and you may have more paperwork. Military families will be responsible for paying the difference between United Concordia's allowed fee and the amount charged by the non-network dentist. That's in addition to the applicable cost-share percentage.
That leaves military families to make a decision: do you switch to a new dentist, or pay more out-of-pocket costs?
How much can families expect to pay out-of-pocket with a non-network dentist? Out-of-pocket costs will vary based on what your dentist charges compared to the TRICARE allowed amount.
I used a recent Explanation of Benefits to calculate what we might pay for a preventative visit. My daughter recently had a regular dental check-up, including a cleaning, evaluation, fluoride application, and two bitewing x-rays. TRICARE covers 100% of preventative dental visits and since we used a network dentist, we paid nothing out-of-pocket. Once our dentist leaves the network, we will pay about $56 out-of-pocket for this type of visit–the difference between what our dentist charges ($192) and TRICARE's "allowed amount" ($136).
Contract transitions inevitably lead to changes in provider networks. However, we are concerned about the number of dentists who seem to be leaving the TRICARE network under United Concordia. We have expressed our concerns to the Defense Health Agency and will continue to monitor the situation. Military families deserve a robust network of dental providers that allows them access to quality dental care while managing their out of pocket costs.
Has your dentist left the network? Use United Concordia's online Find a Dentist tool to check and let us know. We will use this information to understand how the new United Concordia contract is impacting military families.
Posted April 10, 2017