CDC Policy Changed, Coast Guard Families Regain Priority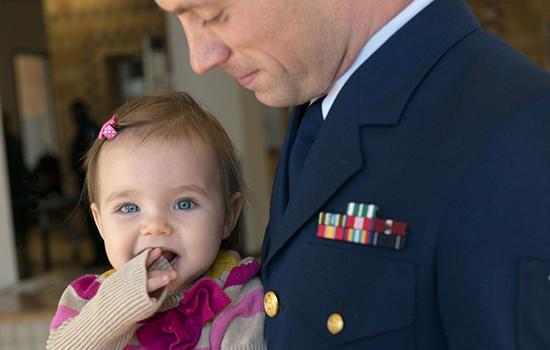 Access to affordable, high-quality childcare is critical for military families, so when changes are made to Child Development Center (CDC) policies, military families pay close attention. That was true in February, when a new policy was issued that ranked priority placement: At the very top were the families who would get first dibs for open spots at CDCs and at the very bottom were Coast Guard families.
Their unfair placement would have created extremely difficult situations for Coast Guard families who rely on military installation CDCs to be able to do their jobs. Concerned families reached out to us, including Lt. Philip Rodino and Lt. Sarah Rodino. They're a dual active duty Coast Guard family with one child enrolled in a DoD CDC and another child on the way.
"When the policy was released with 'active duty military' at the top of the priority, but classifying Coast Guard families separately at the bottom, Coasties everywhere interpreted the policy as stripping the Coast Guard of its status as an armed force," said Lt. Philip Rodino. "We were very disappointed and felt our sacrifice in service was not appreciated. It was a big win for DoD service members, but a significant loss for Coast Guard service members."
There are only nine CDCs on Coast Guard installations in the country, so Coast Guard families have always relied on DoD CDCs for childcare when Coast Guard CDC's didn't exist locally or were at full capacity. The National Military Family Association (NMFA) took the stories of families like the Rodinos to DoD and the Coast Guard to advocate for better policies so all active duty service members can fulfill their mission. Without access to affordable, high-quality childcare, that's impossible.
On April 23, the Secretary of Defense Mark Esper, issued a revised policy change giving active duty Coast Guard and Department of Defense (DoD) service members equal priority at military installation CDCs effective September 1, 2020.
Priority lists are critically important right now, as many CDCs are forced to prioritize, at the discretion of the installation commander, children of essential and key personnel in response to the COVID-19 pandemic. But beginning September 1, 2020, this newly revised priority policy will go into effect.
In the new, revised policy, the highest priority will go to CDC direct care staff (Priority 1A) followed by active duty service members, both DoD and Coast Guard. The second highest priority (Priority 1B) goes to single or dual active duty members, including combat-related wounded warriors on active duty status, single or dual Guard or Reserve members on active duty or inactive duty training status, and service members with a spouse who works full-time.
As the February policy stated, one of the most noticeable changes to prioritization will be the removal of lower priority families to accommodate higher priority families if wait times exceed 45 days at CDCs. Existing patrons will be given at least 45 days' notice before displacement. Priority 1A and 1B families cannot be displaced from the CDC to accommodate any other eligible families. All families with lower priority status than 1A or 1B can be removed from the CDC if a higher-priority patron requests a spot and the wait time for that spot exceeds 45 days.
Service members with a spouse working part-time or a spouse seeking employment will receive Priority 1C. Priority 1D goes to service members with spouses enrolled full-time in a post-secondary institution. Priority 2 goes to single or dual DoD civilian employees as well as those with spouses working full-time. The last priority, Priority 3, goes to all other eligible families; including active duty with a non-working spouse, DoD civilian employees with spouse seeking employment or enrolled in post-secondary education, Gold Star spouses, and DoD contractors.
The September start date was chosen, taking the pandemic into account, and it also gives DoD time to update MilitaryChildCare.com with the new prioritization policy and display anticipated wait times as spots become available. Military installation commanders will have the authority to determine exceptions to policy based on their unique needs.
"As a dual military couple, we are relieved to have the opportunity to continue using this great child care system for our child and excited that our children will have a higher priority for placement," said Rodino. "Thanks to NMFA for their collaborative effort with Coast Guard families to share the difficulties of military service in the Coast Guard and how the original policy would impact members."
Coast Guard families, like all military families, rely on affordable, high-quality child care in order to serve our nation. NMFA is pleased that DoD recognizes the hardship military families face and acknowledges the equivalent need Coast Guard families have for child care support. With the unique demands of military service, all military families should be prioritized when moving to a new duty station and/or when a spouse gains employment, and Coast Guard families are no exception.
NMFA will closely monitor the implementation of this policy as we continue to advocate for all military families. If you're concerned about access to CDC child care in your area, let us know in the comments.