Care Not Cost: Why is this So Hard to Understand?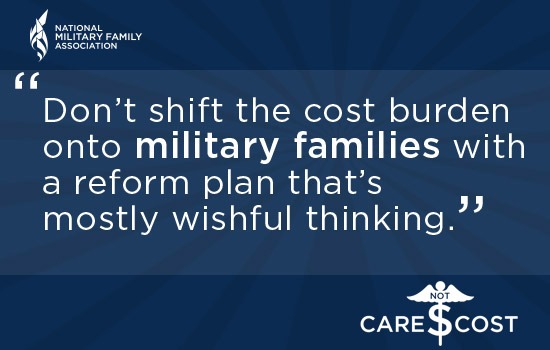 The House Armed Services Committee (HASC) sent military families some disappointing news this week when they adopted their version of Military Health System (MHS) reform. Like the Department of Defense (DoD), the HASC seems focused on out-of-pocket fee structure changes, instead of making more dramatic improvements needed to access and quality of care. Our Association's message to Congress: Don't shift the cost burden onto currently serving families with a reform plan that consists primarily of wishful thinking.
Here's the disappointing stuff:
A rebrand without substantive improvements. TRICARE Prime would remain TRICARE Prime, but TRICARE Standard would become TRICARE Preferred with a new fee structure and more monitoring to make sure the network is adequate. However, there's nothing in the proposal to address coverage issues like TRICARE's failure to keep up with technology and standards of care, or problems with pediatric coverage.
Complexities that would lead to more red tape for military families. The proposal creates two tiers of beneficiaries – those who enter service before 2018 and those who join afterward. The pre-2018 group will be grandfathered in to the existing fee structure with minor changes. The new group will face much higher out-of-pocket costs and enrollment fees. Confused? We bet the Military Health System will be, too, which will most likely mean more billing errors and administrative burdens for military families. Bottom line…Service members sacrifice enough to earn health care for their families – their service is their enrollment fee. Why should we charge them again?
Big goals for customer service improvements with no funding to make it happen. The HASC recognized several key issues: inconsistent policies, limited clinic hours, and a frustrating patient experience. The Committee directs DoD leadership – those responsible for many of the current MHS shortfalls – to make important improvements, but doesn't provide them with additional resources to do so. Result = higher out-of-pocket costs without improving access to quality care.
The HASC mark wasn't all bad news, though. Here are things NMFA believes could help military families:
Addresses problems with acute/urgent care access within military hospitals and clinics. The HASC listened to families and removed the urgent care authorization requirement so families can seek civilian urgent care without first obtaining a referral from their primary care provider.  Additionally, the proposal asks DoD to ensure urgent care is available through 11pm at many MTFs.  All of this is a huge win and something our Association has been fighting for.
Lower out-of-pocket costs for medically retired families and survivors. Costs would be more in line with those of active duty family members.
Directing the Defense Health Agency (DHA) to manage MTFs. Families have complained for years about the varying policies at different MTFs at each duty station. Having one agency manage all MTFs could help ensure more consistent policies and manage resources more effectively. What's needed to make this change work? Congress, military leaders, associations like NMFA, and military families must hold DHA accountable for implementing the right policies.
Maintaining a low catastrophic cap. The cap protects families – who face significant risk associated with military service – from financial risk associated with health care costs.
Let's keep the focus on care and not cost. Our military and their families deserve it. We can do better.
Posted April 29, 2016