Buyer Beware? Big Changes May be Coming to the Commissary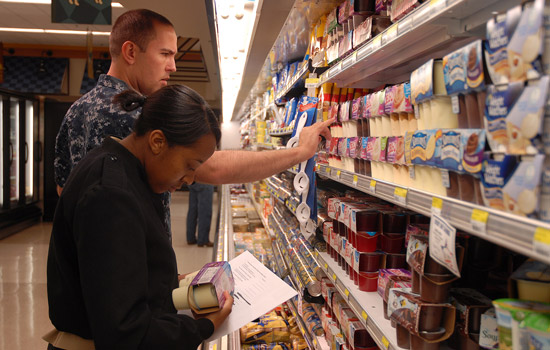 In recent years, as budgets have gotten tighter, the commissary—and the $1.4 billion it receives each year—has become a favorite target of officials in Congress and at the Pentagon. Congress and the Department of Defense (DoD) are convinced that changing the way the commissary does business will allow them to reduce commissary funding while still delivering savings to military families.
Are they right? It looks like we'll find out…starting next year.
At DoD's request, both the House and the Senate included language in their defense bills authorizing the Pentagon to make key changes in commissary operations. Since the changes appear in both the House and Senate version of the bill, it's very likely they'll be in the legislation that will be signed into law later this year. DoD has also released a report detailing how it plans to implement the changes, which it says will save the Pentagon up to $300 million per year.
So what changes can military families expect to see at their local commissary?
Variable pricing: Current law requires commissaries to sell groceries at cost plus 5%. The 5% surcharge covers the cost of building and maintaining stores. Eliminating this provision and implementing variable pricing will give commissaries the flexibility to raise prices on some items while lowering the cost of others, based on market conditions and customer demand. DoD says variable pricing will allow stores to generate more revenue while keeping families' overall level of savings the same. While this may be true for some families, others may end up paying more, depending on what they buy or where they live. More importantly, how will DoD measure the baseline savings families currently receive, and how will they ensure that level is maintained?
Private labels: The legislation will allow the Defense Commissary Agency (DeCA) to develop and sell its own store brand items. Proponents believe the cost of producing store brand items will be lower than buying name brands, allowing the commissary to earn more revenue on those items.
What's not on the table…at least not yet?
Privatization: Some lawmakers have suggested turning the stores over to a private business to operate, on the theory that a business would be able to run the stores more efficiently. Others (including us) argue that privatizing the stores would put commissary savings at risk, particularly for families in overseas or remote locations where stores can't be operated profitably. The majority of Senators agreed with us, voting to strike a provision that would have required DoD to privatize up to five stores.
"Budget neutrality": Last year Congress called on DoD to produce a plan for operating the commissary without any federal funding. However, DoD has concluded that it's not possible unless the system is shut down entirely – an option both they and Congress have ruled out.
Bottom line? Congress and DoD have said over and over that they recognize the value of the commissary benefit and are committed to preserving it for military families. While we appreciate their assurances, we're skeptical the proposed changes can achieve meaningful revenue for DoD while still protecting the value for military families. We'll continue to urge Congress and DoD to consider carefully before making changes to a system that military families rely upon.
Posted June 15, 2016