Blended Retirement System: Should you switch?
By: Jenna Lang, Legislative Coordinator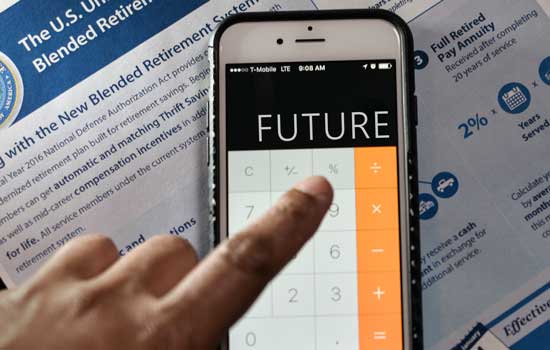 You may have heard talk of a change to the military's retirement system that's left you wondering what in the world it means for your military family? Luckily, you have all of 2017 to make the right retirement choice for your future, because you don't have to decide whether to stay under the current retirement system or switch to the new system until December 31, 2018. But if you're ready to decide, you can switch as early as January 1, 2018.
For service members who entered active service before January 1, 2006, or have at least 4,320 Reserve points, the new Blended Retirement System does not apply. You remain under the "Legacy System," which means if you serve for at least 20 years, your retirement is calculated at by a service multiplier of 2.5%. For example, if you served 20 years you would receive a pension of 50% of base pay (20 years multiplied by 2.5% equals 50% of base pay).
For service members who entered active duty after January 1, 2006, or have fewer than 4,320 Reserve points, you have two options: stay under the current Legacy System, or switch to the Blended Retirement System.
What is the Blended Retirement System (BRS)?
Under the BRS, you still receive a retirement pension, but the service multiplier is reduced from 2.5% to 2.0%. This means if you serve 20 years, you would receive 40% of base pay as your retirement (20 years multiplied by 2.0% equals 40% of base pay).
The BRS gives the service member added Thrift Savings Plan (TSP) benefits, too. Under the BRS, the government automatically contributes 1% of your base pay to your TSP, and up to 4% in matching contributions. But you cannot withdrawal from your TSP account until you reach full retirement age.
For service members opting-in to the BRS, there is no waiting period for the government TSP contributions. The TSP waiting period only applies to service members who enter the military after January 1, 2018.
If you decide the Blended Retirement System is right for your family, your service member must take the BRS opt-in course (and we encourage you to take it, as well). Remember, once you opt-in you cannot switch back to the Legacy System, even if your family circumstances change.
The decision to switch to the BRS should be made with your family's long term needs and expectations in mind. When considering potential choices, we recommend thinking about whether or not your service member plans to stay for in the military for the full 20 years. Planning for a life after retirement has many costs to consider: housing, transportation, food, healthcare, and extras, like travel. What may be right for your family may not be right for another family, even if that family is of the same paygrade with similar years of service.
Where to go for help:
There are many resources available to you as you make this important decision. Don't forget about the online opt-in training, and consider checking out Military OneSource's webinar that overviews the Blended Retirement System. We also encourage you to visit your base or command Financial Counselor for more information.
Posted March 3, 2017