Are You Paying Too Much For Child Care? This Might Help.
By: MJ Boice, Staff Writer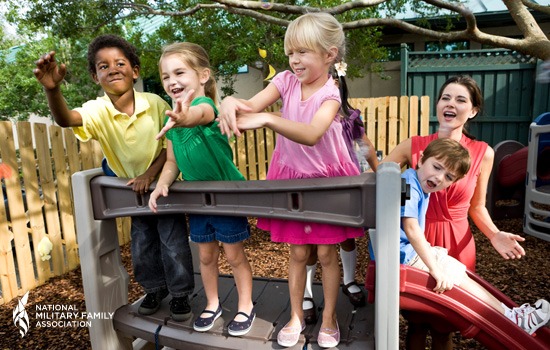 Has your family ever used child care fee assistance? What was your experience? How much of your family's budget is eaten up by child care costs?
It's no secret that affordable child care can be hard to come by, depending on where your military family is stationed. Child care can be one of the largest expenses in your family's budget, and many military spouses have been forced to delay their education or career to avoid financial hardship brought on by the inability to afford their education expenses and child care costs at the same time.
Most installations have Child Development Centers (CDC), licensed home day care providers, and youth centers that provide care for service members and their families at a reasonable cost. But what happens when those facilities are full, or you don't live near a military installation?
Thanks to the Military Child Care Act of 1989, the Department of Defense (DoD) established a child care fee assistance program designed to help military families with the cost of child care if their children weren't able to receive care aboard an installation. The program helps offset the cost of care so eligible families end up paying what they would have paid on base or post.
Child care fee assistance is operated by Child Care Aware of America, and certain requirements vary by branch of service. Fees are calculated on a sliding scale, where parent fees account for a portion of the cost, and the remaining costs are paid through funds that have been authorized by Congress.
Child Care Aware provides step-by-step application instructions for each military branch of service. The Navy, Marine Corps, and Air Force use the same fee schedule. The Army's fee schedule differs slightly in how they calculate child care costs.
For example, an Air Force family with one child has a Total Family Income (TFI) of $55,000.
According to the fee schedule, they would fall under category 4 on the fee schedule. Starting with the basic full time provider cap of $900, the Air Force family would be responsible for paying the provider $459 each month toward their child's care. The remaining $441 is the fee assistance amount that will be paid to the provider directly. That's a savings of almost $5,300 a year!
It's important to remember that you only qualify for child care fee assistance if your family doesn't live near an installation or if there are no openings available at your installation's child care center. Child Care Aware highly suggests that you call them directly at 800-424-2246 (option 6) to speak to specialist before applying.
For more information on specific requirements related to your service member's branch of service, follow the direct links below:
Has your family ever used child care fee assistance? What was your experience? We'd love to hear about it!
Posted August 15, 2017