Dear President Donald Trump,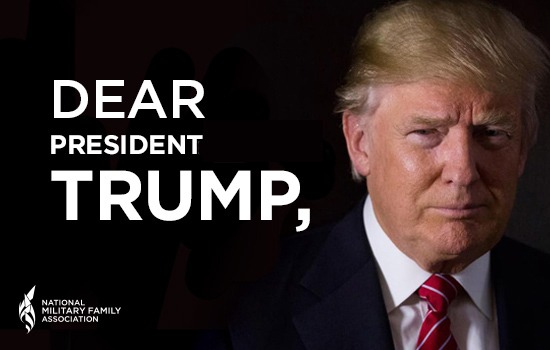 Now that you're the new Commander-in-Chief, military families have a few things they'd like to tell you, our new leader.
Military families are tired of the uncertainty, and worried about more unfulfilled promises from leaders who have their loved one's life in their hands.
Nearly 300,000 service members are currently deployed, many still fighting a war that's lasted more than 15 years. In that time, benefits for service members dwindled, sequestration became an unavoidable reality, and military families began to wonder if the country really understood the issues their communities face.
So how do military families want you to support them during the next four years?
Kelly, a Marine Corps spouse, shared a common frustration. "The military should not be the first place you try and get money from. Our spouses' paychecks should not be threatened every October."
Service members have received below-average pay raises for the last three years, compared to the private sector.
Karen, an Army spouse, also wants you to remember that most service members don't work a "typical" 40 hour per week job.  "The majority work closer to 80 hours, and their pay should reflect that, especially for junior enlisted service members."
Though the total effect on military families remains unclear, they are still dealing with the effects of sequestration—those mandatory cuts to federal funds, thanks to the Budget Control Act of 2011.
These cuts to the Defense Budget have, in the past, closed commissaries, furloughed medical clinics, put health care benefits in jeopardy, and taken valuable dollars from critical readiness training for service members.
Sarah, whose spouse is in the National Guard, wants you to know that Guard families deserve access to the same resources provided to active duty families, since they often serve side by side.
"My family could have avoided so much heartache and trauma if my husband, a Guard soldier, had access to the help he needed after returning from Iraq," she shared.
The National Military Family Association knows the struggles military families face. For nearly 50 years, we've worked with every Commander-in-Chief, regardless of party, to strengthen our nation's families. Now that the election is over, let's work together to keep the needs of military families front and center as an essential part of military readiness.
After all, standing in each pair of combat boots is a soul loved by many.
"President-Elect, please see us and remember that each service member is more than a tool," Heather, wife of an Air Force officer pleaded. "Behind each service member are dozens of people who love them, rely on them, and want them to come home. Please remember their value and weigh carefully the true cost of sending our forces overseas."
Many families are dealing with their third, fourth, and fifth tours into war-torn countries. They're worried about what one more deployment will do to their family.
"I would like you to seriously ponder going to war, the effect and cost, not just financial, and the toll it will take on service members and their families," explained Sylvia, wife of an active duty Soldier. "When you make a decision to go to war, it affects all of us."
The 2.9 million military family members don't wear the uniform, but they serve, too.
Sylvia wants to remind you of this.
"We are a resilient group, but we eventually become weary and tired. It's not just the service member that makes a sacrifice, it's the whole family."
President-Elect Trump, our nation's military families ask that you make promises you can keep. You will make decisions that mean life-or-death for their loved one. Military families ask that you bring them out of the shadow of uncertainty. Please do your best to ease these burdens. End sequestration and reject budget proposals that threaten military families' well-being as a way to save. Take time to understand and hear our military families. Create meaningful change that shows appreciation for their sacrifice and reflects a grateful nation. Military families have done their part, we urge you to do yours.
Joyce Wessel-Raezer
Executive Director
Posted November 9, 2016