American Health Care Act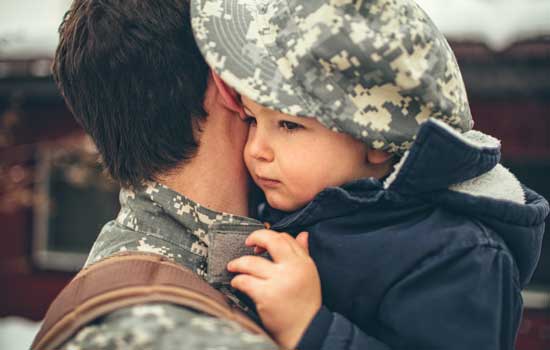 Impact of Medicaid Program Cuts on Military and Veteran Families
Our Association has concerns about Medicaid program cuts included in the American Health Care Act and the potential negative impact they may have on military and veteran families who access Medicaid after transitioning from military service or for their special needs family members.
Transition from Military Service
Nearly 8 in 10 veterans leave military service without a civilian job waiting for them¹. Upon separation from active duty, most veterans and their families immediately lose TRICARE coverage. While veterans may have access to health care through the Department of Veterans Affairs (VA), veteran family members are not covered by the VA. Many of these families rely on Medicaid while searching for civilian employment. Even after securing employment, veteran families may lack employer sponsored coverage and have incomes low enough to make them Medicaid eligible². We are concerned that Medicaid cuts may leave many transitioning veteran families uninsured.
"My husband served in the Marine Corps for 10 years, including 3 combat deployments, before being medically separated in 2014. We lost TRICARE when my husband separated which happened to be three weeks after the birth of our second child. I was very concerned about not having health care. Thankfully, our children were eligible for Medi-Cal. Without Medicaid, our preschooler and new baby would have been without coverage."   – Spouse of 100% Disabled USMC Veteran
Medicaid Support for Special Needs Military Families
Even though active duty families are covered by TRICARE, many of those with special needs family members rely on Medicaid for supplemental coverage. Medicaid often acts as a secondary payer for some of the most comprehensive and complex care that TRICARE does not offer.
State Medicaid Waiver programs also provide long term care services in home and community based settings to people who would otherwise require care in an institutional environment. Most states already have lengthy waitlists for their Medicaid Waiver programs making it difficult for military families to access services because they PCS from one state to another before reaching the top of the waitlist. Proposed Medicaid cuts will result in longer waitlists that have a disproportionate effect on military families. For those military families fortunate enough to access Waiver services, Medicaid cuts could have a devastating impact.
"My 10 year old daughter is quadriplegic, nonverbal, and depends on a feeding tube. Losing our Medicaid waiver services would mean losing respite care, diapers and in-home supportive services. It would be devastating to our family." – Navy family
If you have any questions, please contact Karen Ruedisueli, Government Relations Deputy Director, at kruedisueli@militaryfamily.org.
¹The State of the American Veteran – USC School of Social Work Center for Innovation and Research on Veterans and Military Families, 2014
²ACA Implementation: Monitoring and Tracking – Robert Wood Johnson Foundation, 2016
Posted March 24, 2017