A Year in Review: Looking to the Horizon
By: MJ Boice, Staff Writer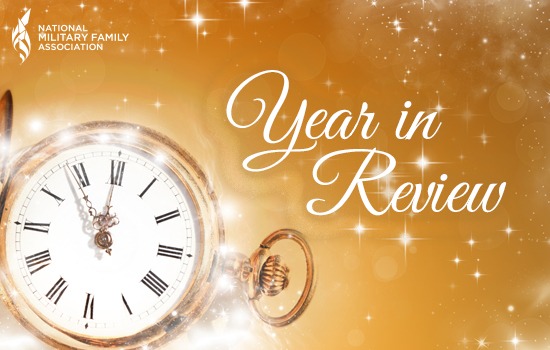 As 2016 winds to a close, NMFA is busy preparing to take 2017 by storm. The New Year will bring a new Congress, and with it a new Commander in Chief. In the new year, NMFA remains committed to supporting our military families and building on the progress we have made in 2016.
On December 8, Congress passed the final version of the 2017 National Defense Authorization Act (NDAA).  This legislation guides policies and funding levels within the Department of Defense; impacting military pay, health care, Basic Allowance for Housing (BAH) and more.
With the help of military families who shared military health care horror stories, NMFA concentrated our efforts on making sure Congress kept the focus on care, and not cost. These real life testimonies, paired with NMFA's expertise, resulted in improvements in access to care, including:
Military families are no longer required to have a referral for urgent care visits;
The DoD will be required to have a 24/7 system for appointment scheduling at Military Treatment Facilities (MTF) and open scheduling calendars out 6 months for wellness and follow-up visits;
Streamlined access to specialty care will allow patients to receive services without waiting for prior authorization;
Dental and vision coverage for dependents.
Earlier this year, Congress proposed plans to slash BAH for dual-active military families, however NMFA worked tirelessly to make sure Congress understood exactly how much this would negatively impact these service members. We are happy to report that Congress decided to preserve BAH for dual-active households.
Additional NMFA efforts have lead to improvements in:
Pay raise: The bill sets a pay raise of 2.1% for service members, which marks the first time in four years that the pay raise has matched the Employment Cost Index (ECI), as it's supposed to do by law. Finally!
Parental leave: The new law allows different amounts of leave to primary and secondary caregivers after the birth or adoption of a child. The primary caregiver is now authorized six weeks of parental leave after the birth or adoption of a child (this is in addition to six weeks of convalescent leave new moms receive after giving birth). Secondary caregivers will receive 21 days of leave. It will be up to DoD to define primary and secondary caregiver.
Education: The law extends the DoDEA Grant Program, which funds programs at schools serving large numbers of military-connected kids, for one year. We're pleased the program will continue, but wish Congress had seen fit to extend it for more than a year. Additionally, the law authorizes $30 million in Department of Defense Impact Aid for public schools serving military kids, and an additional $5 million for schools educating military kids with disabilities. These funds are much needed by local public schools serving military communities and we're grateful to Congress for providing them.
Survivor benefits: Under the new law, survivors of Reserve Component members who die in the line of duty during inactive duty training will receive equal benefits under the Survivor Benefit Plan. We're grateful that Congress has corrected this inequity.
In an effort to bridge the gap of mental health in the military and civilian population and reduce the nationwide shortage of mental health providers, NMFA partnered with Give an Hour and the United Health Foundation to ease the transitions for military spouses in graduate school through licensure to jobs in the behavioral health field. Most spouses are training to provide help within the military community, so investing in one spouse can help hundreds of family members each year.
With more military spouses returning to school and the workplace, NMFA is committed to standing beside them in their endeavors. We are pleased to report that NMFA awarded over $615,000 in scholarship money to more than 600 spouses pursing education and career goals this year. These funds help pay for all levels of degrees, licensure exams and fees, certification exams and certificates, and other funds. We also teamed up with even more partner schools who want to see military spouses succeed and achieve their goals as much as we do.
Our Operation Purple® Program has continued to make waves in the focus on military family wellness. In 2016, we had the honor of hosting 57 military families at our Operation Purple Family Retreats® and Operation Purple Healing Adventures®, where they learned to reconnect after deployment and, in some cases, find a new normal post-injury.
Thanks to national program sponsor Wounded Warrior Project® (WWP) and other caring donors, more than 2,700 military kids from around the country attended 31 weeks of Operation Purple Camp at 25 locations! Nearly half the campers were from families of the wounded, ill or injured, and 53% had at least one parent deploying or returning from deployment.
Additionally, the American Camp Association awarded the Eleanor Ells Award to NMFA's Operation Purple® Camps for excellence in research and programming.
2016 has seen NMFA's Volunteer Corps put in over 9,000 hours of their time to further our mission and support military families around the world. Whether it was attending events, assisting with scholarship judging, or writing for our blog, our Volunteers continue to be the heart and soul of our Association through their outreach and time spent giving back to families like their own.
NMFA really stepped up our game this year as we competed in the 4th annual Veterans Charity Challenge, started by Craigslist founder and NMFA Board of Advisors member, Craig Newmark. NMFA placed 4th out of 58 organizations competing, and creatively raised $19,000 to help the military families we serve.
Speaking of creativity, NMFA received an Honorable Mention in the "WOW!" category of the Digital PR Awards for our "More Than a Spouse" movement. This campaign encouraged military spouses to set goals, network and build a community of like-minded spouses, and continues into 2017 with more networking events and opportunities to obtain invaluable spouse-to-spouse support.
In October, NMFA hosted our annual Leadership Luncheon, featuring distinguished guest speaker Chairman of the Joint Chiefs of Staff General Joseph F. Dunford, Jr. His insight and energy provided great conversation and he offered unique perspective into the strengths of our troops and their families. He also gave us a much appreciated opportunity to hear about what's to come for our nation's Uniformed Services. 2016 saw a lot changes surrounded by uncertainty. And for military families, the uncertainty continues into the New Year. Some battles have been won, yet there are others on the horizon. NMFA stands at the ready to continue the fight for the benefits our service members and families have earned, and we look forward to supporting them in 2017 and beyond.
Posted January 1, 2017