A Look Back: How Military Families Tackled 2019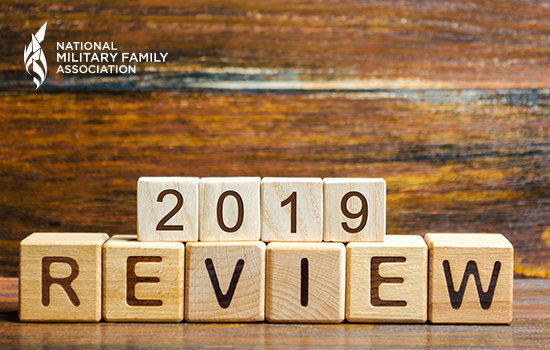 As we enter a new decade and our 19th year at war, military families continue to stand up for our nation. More families will experience a deployment for the first time, others will persevere through their 5th, 6th, even 10th separation. No matter what the nation asks of its military, the National Military Family Association stands behind our 1.3 million military family members with support, advocacy, and programs. Here's how we did that in 2019.
Empowering military families to be their own best advocates
In 2019, we celebrated the repeal of the "Widow's Tax," a decades-old injustice that took money from the pockets of surviving military spouses that we've fought for decades to eliminate. We were joined this year by an unprecedented number of military widows whose grass roots effort to advocate for themselves paved the way for this victory for every military family that has paid the ultimate price for our country.
Our commitment to advocacy extended well past legislation this year and into the schools and school districts of our military kids. This year, our Education Revolution put military kids first and empowered parents to be their child's best advocate in school and throughout military life.
We gathered parents of military kids in Texas, Virginia, and Florida and took them to meet with state officials, education leaders, and school district officials in their state to discuss the issues their children face as they move through school districts across America. Together we called for high and consistent academic standards across state lines and offered solutions for how schools and districts can better accommodate the needs and support the success of military children.
A record-breaking year for NMFA's Military Spouse Scholarship Program
2019 marked the 15th year of our Military Spouse Scholarship Program and we celebrated with a new record, awarding 923 military spouses a total of $1,162,012 in scholarships and in-kind funding. That's huge growth from 2004, when we awarded $20,000 to 30 military spouses. Since then, thanks to individual and corporate donors along with partners and universities, we've given thousands of spouses the support they need to reach their education and career goals.
Operation Purple Program strengthens the bonds of every member of the family
Our Operation Purple® Program served 2,256 military family members in 2019.
During our 17 weeks of Operation Purple Camp at 15 locations, 1,533 military kids experienced a completely free week of summer camp filled with friendship, adventures, and memories with other children who know what it's like to have a parent in the military.
We also hosted three Operation Purple Buddy Camps, which serve younger military kids by giving them a camp experience with their mom or dad. For the first time, one of those camps was specifically focused on children of military caregivers. Thirty caregiver parent-child duos took part in activities designed to strengthen their relationship and build community with other caregivers and their kids while enjoying a weekend away from caregiving responsibilities.
No matter how service impacts them, military families need opportunities to strengthen bonds after multiple deployments or service-connected injuries. This year our Operation Purple Family Retreats® and Operation Purple Healing Adventures® gave families a chance to unwind and reconnect through the healing properties that only nature and community can provide.
Fifty-eight military families joined us at three Family Retreats, where they learned valuable communication techniques and coping skills centered on helping the family unit before or after a deployment. At Healing Adventures—a specialized retreat for families of wounded military members—63 families got much-needed time together away from the everyday stress that comes with injuries, including PTSD and traumatic brain injuries. Families found support through connection with other families who know their struggles and were empowered to tackle the challenges ahead.
NMFA turns 50 years old and kicks off a yearlong celebration
In October, we kicked off a yearlong anniversary celebration—50 years of service to America's military families. Longtime partners Pentagon Federal Credit Union, Prudential, Wounded Warrior Project, and Fisher House Foundation were all celebrated at a gala event for their continued support of military families and our mission.
We also said farewell to Executive Director and military family champion, Joyce Wessel Raezer, who retired over the summer, and welcomed Ashish S. Vazirani as our new Executive Director and Chief Executive Officer.
Pushing for answers and solutions in 2020 and beyond
2019 was a busy year, and we have important work ahead of us as we tackle complex issues like food insecurity, childcare, healthcare, and dependent suicide—issues that leave us asking: what is the true cost of war?
Military families take care of us, and we will always take care of them. Together we're stronger.
Sign up for our emails to stay up-to-date with all we're doing in 2020 and how you can help our country's brave men and women in uniform and their families all year long.