3 Reasons to Stay Home and Watch "A Capitol Fourth"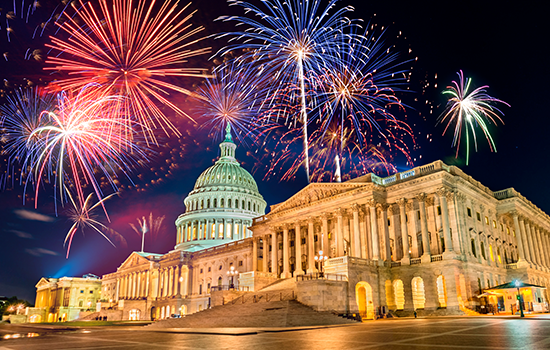 With 4th of July events being canceled across the country due to a rise in COVID-19 cases, the vast majority of Americans are having to find creative ways to celebrate our nation's independence. The folks over at PBS are no exception!
This year's July 4th tradition, much like their Memorial Day concert, will pivot to a completely virtual experience. Here are three reasons you should stay home this evening and watch the 40th anniversary presentation of "A Capitol Fourth"!
The Weather
Record-setting temperatures aren't surprising for the hottest holiday of the year. So why not beat the heat with John Stamos and Vanessa Williams as they host a star-studded line-up of your favorite celebs? Featured performers include:
Patti LaBelle, John Fogerty, Renée Fleming, The Temptations (celebrating their 60th anniversary), Trace Adkins, Yolanda Adams, Brantley Gilbert, Lauren Alaina, Brian Stokes Mitchell, Kelli O'Hara, and Broadway and television star Mandy Gonzalez (from Hamilton and In the Heights). And to mark the program's 40th anniversary, the broadcast will also feature highlights of many past performances, too!
No Crowds
Typically, the concert would be held on the West Lawn of the U.S. Capitol, where thousands upon thousands of people would stand and sit shoulder-to-shoulder to watch a fireworks display over our nation's iconic skyline in Washington D.C. This year, the concert's performances were pre-filmed without a live audience, so you can enjoy the concert tonight starting at 8:00pm ET through one of the outlets below.
PBS Website
COVID-19
With cases of COVID-19 increasing exponentially across the country, it is imperative that we all do our part and stay home. But that doesn't mean we can't be creative while we socially distance ourselves. America has a fantastic opportunity here to be stronger together, even if we're apart.
That's why John Stamos will also include a special tribute during the program honoring America's first responders, doctors, nurses, paramedics, grocery store workers, truck drivers, scientists, and mail carriers–all the homefront heroes putting their own lives on the line during the pandemic.
"These workers are committed to keeping us safe, keeping us fed, healing the sick, and keeping the country going during this pandemic," said Stamos. "It's important for all of us to take a moment in our show to thank them and honor them for their spirit and courage."
I hope you'll join me tonight and celebrate America's independence by watching PBS' "A Capitol Fourth" concert. Remember folks: Just because we're apart, doesn't mean we aren't all in this together.
Posted by MJ Boice, NMFA Volunteer and Marine Corps spouse