2015 A Year in Review for Military Families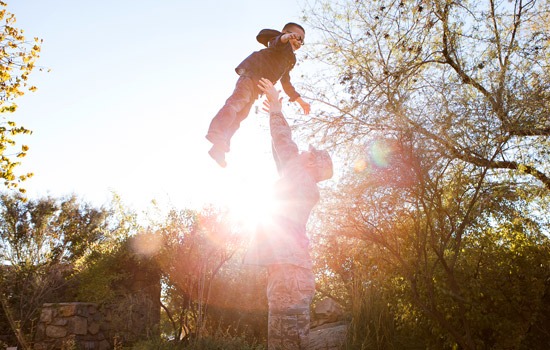 What a year 2015 was for military families! Congress struggled with the budget, and we did our part to send a strong message that sequestration must end. The families who protect our nation were plagued with uncertainty—and not the kind they signed up for. Besides worrying about a deployed loved one, these military families didn't know if the programs they relied on would be available to them in the coming years.
But among the uncertainty were some pretty awesome wins for military families.
2015 started with the unveiling of the long-anticipated Military Compensation and Retirement Modernization Commission (MCRMC) report. The report included 15 recommendations for changes to military pay, retirement, health care, family support programs, and more. While not every recommendation in the report was enacted, Congress ultimately did adopt several, including significant changes to military retirement for troops entering the service after 2017, establishment of a military student identifier, and expansion of Space A travel privileges.
Shortly after the MCRMC report was released, the Defense Department put out its 2016 budget proposals. Our Association made sure military families weren't forgotten and provided written testimony on military health care reform and proposals to change military compensation and retirement.
And if there's a "feel-good-kick-butt" story for 2015, it was when military families rallied together to defeat a proposal that would have penalized families for seeking care at an emergency room for non-emergent health issues. Military families also weighed-in with thoughts about the proposals to change the future of the military retirement system.
In August, we hosted our first ever Facebook event as part of our More Than A Spouse campaign! We empowered spouses to believe in themselves through a Facebook party that allowed us to engage with 5,700 military spouses in real time. We awarded $5,000 in scholarships from 360Training.com to 10 spouses pursuing careers, and the buzz from the campaign continues to impact military spouses as the conversation continues through our LinkedIn page.
NMFA awarded over $500,000 in scholarships to more than 440 military spouses pursuing their educational and career goals. We also added to our growing number of partnerships with universities and colleges who also helped spouses achieve success!
We also hosted quite a few contests for military families, including a photography contest, which gives military spouse photographers around the world the chance to show off their talents, and a bedroom makeover for a lucky military kid, courtesy of design firm Laurel & Wolfe!
This wasn't the only win for military kids, either. In 2015, almost 2,700 military children from families facing a parent's deployment and/or injury spent a week at Operation Purple® Camp. In fact, 45% of camp goers this year had a wounded, ill, or injured parent. NMFA also served nearly 100 military families at Operation Purple Healing Adventures® and Operation Purple Family Retreats®. Thanks to Wounded Warrior Project®, USO, and Albemarle Foundation and other sponsors.
Our 2015 Leadership Luncheon focused on the budget challenges facing the Department of Defense. The Honorable Mike McCord, Under Secretary of Defense (Comptroller) and Chief Financial Officer, and the Honorable Brad R. Carson, Acting Under Secretary of Defense for Personnel and Readiness spoke on the opportunities needed to recruit and retain our nation's Force of the Future.
After what seemed like a never-ending cycle of disagreement, including a veto from the President, the Fiscal Year 2016 National Defense Authorization Act (NDAA) was finally signed into law on November 25.  Key provisions in the bill include:
Retirement: The biggest change is the overhaul to the military retirement system for new troops only. Starting in 2018, the current retirement system will be replaced with a "blended" system. The DoD will contribute 1% of a service member's base pay to his or her Thrift Savings Plan (TSP) account and match service member's contributions up to 4% of base pay. Service members who serve for 20 years will still receive a pension, but the amount will be less than under the current system. The changes will not affect currently serving or retirees, but service members with less than 12 years of service on January 1, 2018 may opt in to the new system.
Pay: For the 3rd year in a row, military base pay is below the Employment Cost Index (ECI) resulting in a 1.3% increase for 2016.
BAH: For the 2nd year in a row, the Basic Allowance for Housing (BAH) is designed to require service members to pay out-of-pocket for a portion of their housing. BAH will cover 95% of housing costs phased in over a 3 year period.
Health care: There are some changes to health care in 2016,  including an increase in out-of-pocket costs for pharmacy co-pays. Yet, there is also a new three-year pilot program to allow TRICARE beneficiaries to access urgent care without a referral.
For 2016, we'll continue to engage with Congress about proposals to reform TRICARE. In a year that will see a new President elected, we will continue to support and strengthen military families through programs that meet them right where they are. Continue to stay engaged with us and share your military life experiences.
Posted January 5, 2016